practical strategies for data management and research
Most people feel challenged when faced with the prospect of a research project. And why not? After all, it's not something we do every day. The biggest problem (usually) is knowing how to cope with both the shape and the volume of information. Elizabeth Orna's advice in Managing Information for Research is that we should concentrate on managing the process of research. She deals with the essential questions which are asked by anybody undertaking a project. What am I looking for? Why am I looking for it? How shall I set about the task? Where shall I start looking? And she answers these questions by showing practical examples and demonstrating how to both define and limit the task. Her evidence is drawn from a long and distinguished career, working in education and government.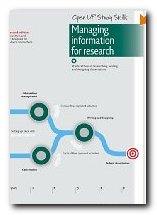 What she is offering here are "ways of thinking about information, and practical techniques of applying the thinking that are characteristic of the disciplines known variously as 'information science', 'librarianship', 'information management', or 'information studies'." This is not how to grub around for your data, but what to do with it when you've got it.
She discusses for instance the simple practicalities of organising information – on cards; on A4 pages; and in indexes. [This section is crying out for extended hypertext consideration in the next edition.] She also gives an excellent example (culled from a negative experience on an MA course) of why it is important to keep a full documentary record of a research project – complete with a list of the documents required to do it. This is first-rate advice, generated from first-hand educational experience.
There's also a section on time management, complete with guidance on estimating how long it will take to complete tasks – and what to do when you can't realistically meet your deadlines. The purpose and readership of a project should be kept in mind so that it's designed to meet the requirements of an intended audience – and there's a useful checklist of questions you can apply to any work you produce.
She covers a number of possible ways of presenting your results – which leads into a consideration of what is now called 'information architecture'. That is, thinking clearly about the way in which data is displayed in order to be useful, easily understood, and effective. This points towards the sort of work being done by Edward Tufte and the University of Reading, both of which sources I was glad to see listed in the excellent bibliographies of further reading which follow each chapter.
The latter parts of the book deal with the importance of effective page layout and good typographical design in the presentation of data. Graham Stevens points readers towards that most important feature in the principles of good design – over-riding the default settings of your word-processor. He covers the details of font choice, line length, margins, grids, word spacing, heading hierarchies, and close editing in its relation to the effective visual display of information.
The publishers have had the good sense to let him completely re-design this hugely enlarged second edition of the book. The result is tremendous improvement on the first. It's now a production which follows the very same principles it lays down for the efficient presentation of information. It's also an excellent piece of work which will help anyone who is prepared to learn about the most effective manner of organising and presenting information.
© Roy Johnson 2009

  Buy the book at Amazon UK

  Buy the book at Amazon US
---
Elizabeth Orna with Graham Stevens, Managing Information for Research, Buckinghamshire: Open University Press, second edition 2009, pp.271, ISBN: 0335221424
---
More on information design
More on design
More on media
More on study skills
More on writing skills
---