glamorous contemporary European house designs
If you like looking at examples of beautiful mediterranean architecture, designer homes overlooking the sea, and experiments with shapes, materials, and domestic organisation – then this new book from Thames & Hudson is worth your consideration. It's like A Place in the Sun on steroids. Dominic Bradbury has assembled mini-essays on twenty-five of the best in modern architect-designed houses.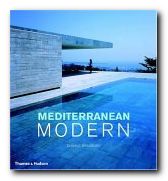 They differ in their styles, but are united by their clean lines, open plan living, and a serious commitment to integration with their surroundings. The overall style, which might reflect the editor's taste or might represent the movement of the current decade, is for buildings that are minimalist, rectangular, and low-rise. They must also blend sympathetically with their surroundings. Their materials have some relationship to the area in which they're built, large plate-glass windows feature prominently, if possible reaching to the floor, and an infinity pool is a desirable extra.
A high proportion of the examples come from Spain. There's quite a lot of cantilevering, flat roofing, sharp-edged, rectilinear profiles, and all the example shown rise to a maximum of three floors. There's also a recurrent theme of contrasting textures – mahogany against raw concrete, polished steel and plate glass, water features and carefully arranged gravel pathways.
I liked the inclusion of small architectural plans, which help you to gain an overall perspective of the building in its geographical location. And visually, the book is a treat, with excellent photographs – even though their relatively small format made me hanker after something more grand.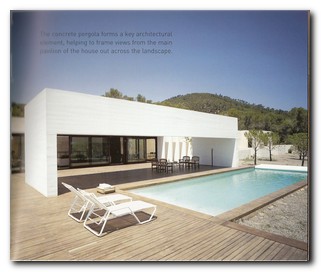 Of course, it has to be said that most of these buildings are situated in completely idyllic locations, set amidst rolling pine forests, overlooking sun-drenched harbours, and untroubled by any neighbours or industrial blots on their landscapes. But having said that, they represent what's possible when an architect is commissioned by a client with enough money and sufficient confidence to allow free imaginative rein.
The locations range from Morocco in the west, via Spain and the Balearics, through Greece, to Turkey in the east. Yet many of the designers of these buildings come from places as far away from the Mediterranean as Paris and Brussels – though I suppose any architects worth their salt must have their practices located in big cities.
This is part way between a coffee table book, the text of which nobody (except design anoraks) will ever read, and a serious review of modern architecture. Dominic Bradbury seeks to point out what the designers are doing that's original, and he has a sensiitive regard for his subject. Full contact details of the architects are listed, and a trawl through their web sites is like getting a trip through another book for free.
© Roy Johnson 2006

Buy the book at Amazon UK

Buy the book at Amazon US
---
Dominic Bradbury, Mediterranean Modern, London: Thames & Hudson, 2006, pp.256, ISBN 050034227X
---
More on architecture
More on technology
More on design
---