the forging of revolutionary consciousness
In common with many other revolutionary writers, Victor Serge turned to fiction as a result of being excluded from active political life when he was expelled from the Communist Party as a Left Oppositionist in 1927. Writing in exile under extremely difficult conditions, he set himself the task of presenting in fictional form an account of revolutionary developments during the first three decades of the twentieth century – in most of which he had been personally involved. Men in Prison is the first volume in two separate trilogies he created to cover this historical period.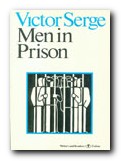 It's a fictionalised account of his own experience of having been imprisoned by the French authorities between 1912 and 1917 because of his sympathies for a group of anarchists. Its form is the traditional one for jail memoirs of overcoming a lack of possibilities in terms of plot by splitting the material into separate chapters dealing with the common tropes of imprisonment — its topography, warders, fellow inmates, survival, resistance, food, work, and the prisoner's endless problem of dealing with passage of time.
The prisoners spend long, poorly paid hours in workshops – 'the rule is work and silence' – with severe punishments for infractions of rule and discipline. The weak and poor are driven into the ground, bad conditions create bad health, men expire horribly after a lifetime of work, misery, and deprivation, and any possibilities of resistance or rebellion are crushed between very narrow limits. It requires colossal efforts of will and self-discipline merely to stay human and survive.
All of this is an accurate reflection of life in the outside world – particularly that prior to 1914. The world, that is, seen from a proletarian point of view. In his attempt to create a new kind of novel Serge not only allies himself with the working class politically, but tries to reflect much of its consciousness and culture in his literary method.
the form of the classical novel seemed to me impoverished and outmoded, centring as it does upon a few beings artificially detached from the world … My first novel had no central character; its subject was not myself, nor this or that person, but simply men and prison.
Men in Prison is densely studded with the portraits and potted biographies of his fellow prisoners, rich in illustrative anecdote, in analysis of human behaviour, and in factual accounts of the details of penal regulations and their practical effects on the lives of inmates. Using a fast, vigorous style Serge populates his novel with everything from the thumbnail sketch, through silhouettes, to the condensed biography which will offer the essential facts of someone's life. Not what they think they are, what their motives might be, or what extenuating circumstances they might plead, but what they have done – manslaughter, fifteen years penal servitude, learnt five languages, robbed banks, or written a book on Goethe.
Ex-Captain Meslier, accountant … an intelligent, ageless face ravaged by fever, struggle, debauchery, and alcohol. The Indo-Chinese and Sahara campaigns. Alcohol. Left for dead, riddled with javelin wounds, one night of battle in the African jungle. Legion of Honour. Alcohol. Wild nights in Paris. Alcohol … had written to his mistress, a demi-mondaine infatuated by this mad hero: 'Fifty francs tonight, or I'll kill you' … paid only thirty month's imprisonment for that slit throat … In the lines he used to bow to passing buddies, then he let fly at them with horrible insults behind a friendly glance. In church on Sunday, he would sometimes sit down at the organ and play amazing pieces by Bach or Handel by heart.
The characters come off the page thick and fast – a dazzling cast list of humanity – all treated quite fairly according to character as manifest through acts in the material world. Captain Meslier has participated in France's imperial plunder, but he is not to be reduced to a military caricature and is credited with his playing of classics – which says far more about the psychology of colonialism than a naively committed piece of propagandist fiction.
Serge's form of narrative address presents an interesting example of the way in which political attitude is given an aesthetic formulation. Instead of selecting and sticking to a single mode (the first person singular would have been the most obvious) he uses all possibilities, swinging freely from one to another. From the first person – 'I was no longer a man, a man in prison' – to the impersonal third – 'man imprisoned differs from man in general, even in his outward appearance' – to the personal – 'He is still wearing the cause of his good or bad fortune … an ordinary beige overcoat' – and back to the second – 'Yesterday you had a thousand worries'. Sometimes in this mode, from within the narrative itself, a person is given hortatory encouragement and addressed personally – 'Defend yourself Legris, show you're a man like the others'. But undoubtedly the most significant is his use of the first plural, the collective voice – we:
I have not lost the years it has taken from me. We have committed great errors comrades. We wanted to be revolutionaries: we were only rebels. We must become termites, boring obstinately, patiently, all our lives. In the end, the dyke will crumble.
This is a fresh and an ideological approach to narrative that he was to develop in the novels that followed. Men in Prison is the initial volume of Serge's first triptych that documents his political move from anarcho-individualism towards revolutionary organisation, patience, and planning. He started from that new position in his next novel, Birth of Our Power.

Buy the book at Amazon UK

Buy the book at Amazon US
© Roy Johnson 2010
---
Victor Serge, Men in Prison, London: Pluto Press, 1978, pp.260, ISBN: 090461350X
---
More on Victor Serge
Twentieth century literature
More on biography
---