its meaning in literature and general culture
Routledge have a series of books (New Critical Idiom) which offer monographs examining the key concepts and critical terms used in literary, cultural, and media studies. They seek to bring modern theory to bear upon traditional concepts, so as to illustrate the development of modern usages and shifts in contemporary interpretation. David Punter's examination of metaphor starts by looking at its history. This begins with Aristotle's observation in his Poetics (350 BC) that the genius of metaphor lies in the ability to see similarities in two different things.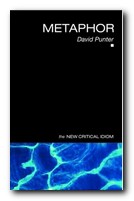 That is at the base of metaphor in all its forms – similes, metaphors, metonymy, synecdoche, symbols, and allegories – and I think he was wise in not getting hung up about the differences between them. He looks at examples in poetry and prose, showing them working at various levels of complexity – from simple similes to extended metaphors which seem to be operating at a 'beyond the text' level. After establishing the basics, he moves on to look at metaphor in a non-European context (specifically, Chinese poetry) then at public or political metaphors ('Fathers4Justice', the Crown, and Labour's red rose symbol – cue William Blake).
In most cases his approach is to show what lies beneath the 'intended' meaning(s) so as to show others, that might be unintended, lurking below. To give an example that never ceases to amaze me, when local government officers speak of their 'front line' services, I wonder if sub-consciously they think of the public (their clients, whose interests they are supposed to be serving) as their enemy, with whom they are at war?
Then he tries something more difficult – interpreting modern texts that seem to have metaphorical meanings to which (it would seem) we do not have access – The Life of Pi being his most prominent example. This didn't seem so convincing.
There's also a discussion of psycho-analysis and metaphor which I thought might say something about what the two things being likened to each other might reveal about the person making the comparison – but he drifts off into a consideration of Edward Lear's nonsense poetry. It doesn't seem to occur to him that Lear's famously bathetic last lines ('That elastic old person of Pinner') which merely echo the first, might just be an example of feeble whimsy.
At its weakest, his commentaries are not much more than chasing word associations ('Howling at the moon'-> Howling Wolf -> Wolf -> Sheep -> Wolf -> Rome) and so on, but at their best he offers genuine insights into the limits and possibilities of his subject.
And despite any differences one might have with his interpretations, any students of literature (and in particular, poetry) will find his extended analyses of modern poets (Hardy, Hughes, W.S. Graham, Walcott) very illuminating.
© Roy Johnson 2007

  Buy the book at Amazon UK

  Buy the book at Amazon US
---
David Punter, Metaphor, London: Routledge, 2007, pp.158, ISBN: 0415281660
---
More on literature
More on the novella
More on literary studies
More on short stories
---