life, works, political persecution
Mikhail Bulgakov (1891—1940) was born in Kiev in the Ukraine into a family of intellectuals. His father was a professor at the Theological Academy. From 1901 to 1904, Mikhail attended the First Kiev Gymnasium. The teachers of the Gymnasium exerted a great influence on the formation of Mikhail's literary taste, and his favourite authors became Gogol, Pushkin, Dostoevsky, Saltykov-Shchedrin, and Dickens. He graduated as a doctor from Kiev University, specialising in venereology. In 1913 he married Tatyana Lappa, and moved into provincial villages, where he practised as an itinerant doctor. For a short time he became addicted to morphine, but his wife helped him kick the habit. During the revolution he was drafted by the White Army and worked as a field doctor, but then gave up medicine for literature. In his autobiography, Bulgakov recalls how he started writing : "Once in 1919 when I was travelling at night by train I wrote a short story. In the town where the train stopped, I took the story to the publisher of the newspaper who published the story".
In 1921 he moved to Moscow and wrote for emigrée newspapers and worked for the literary department of the People's Commissariat of Education. His journalism was also published in Berlin, which was the main centre for Russian emigration at the time. (Vladimir Nabokov lived and worked there at the same period.) In 1924 he divorced his first wife and married Liubov Evgenevna Belozerskaia. Bulgakov began writing the story about the Civil War in Ukraine in 1923, which he published in the journal Rossiia under the title The White Guard.
From 1925 onwards, Bulgakov was closely associated with the Moscow Arts Theatre, which was dominated by the figure of its founder Konstantin Stanislavsky and his theories of method acting. By 1928 he had three plays running in Moscow theatres, one of which — The Day of the Turbins — was a favourite of Stalin's, even though it presented a sympathetic portrayal of White (counter-revolutionary) officers. Nevertheless, as Stalin's reactionary grip on power tightened, Bulgakov's work was increasingly criticised, and then banned. In 1929 he wrote a letter appealing for help to Maxim Gorky, who was in favour with the authorities:
All my plays have been banned; not a line of mine is being printed anywhere; I have no work ready, and not a kopeck of royalties is coming in from any source; not a single institution, not a single individual will reply to my applications…
He also wrote to the Soviet government requesting permission to emigrate, and as a result of this received a personal telephone call from Stalin. But he was never allowed out of the country, and never saw the rest of his family again. They had all settled in Paris – the 'second' centre of Russian emigration at that time.
Bulgakov began writing Master and Margarita in 1928, and the novel still shows some traces of its earliest drafts. But he burned the manuscript along with all his other works in progress in a Gogolian fit of despair in 1930. However, by 1933 he had resumed work on it.
In 1932 he married for the third time to Elena Sergeevna Shilovskaia. During the 1930s Bulgakov was employed as an assistant producer at the Moscow Arts Theatre, and he was also librettist and consultant at the Bolshoi Theatre. Stalin's favour protected him from the worst of the arrests, torture, and executions which characterised the reign of terror at that time – but his works remained unpublished and banned.
In 1937 he diagnosed his own neurosclerosis and predicted that he would die in 1939. He was correct to within only three months. He spent the last years of his life working on what was to be his masterpiece, The Master and Margarita.
© Roy Johnson 2004
---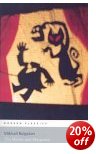 The Master and Margarita (1940/1973) is a wonderful mixture of realism and fantasy which offers a satirical view of communist Russia. The story involves the arrival of the Devil into Moscow, interspersed with chapters dealing with Pontius Pilate and the crucifixion of Jesus Christ, plus other sections related to an artist and his relationships with his art and his lover. All three layers of the story are blended with spellbinding imaginative force.


Buy the book here
---