What is the MLA Style Guide?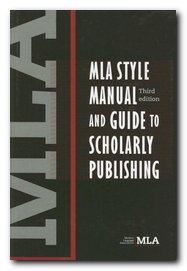 MLA stands for the Modern Language Association (of America). Its style manual has the full title MLA Style Manual and Guide to Scholarly Publishing. This presents a full set of protocols for the writing and presentation of documents and research in the humanities (literature, languages, media studies, and cultural studies). The guide and its standards are in general use throughout north America and Europe.
The guide does not cover the protocols used in disciplines such as history, sociology, philosophy, or sciences. These use either the Chicago Manual of Style or the Harvard System of referencing.
In the notes which follow, the terms citation (US usage) and referencing (UK usage) are used interchangeably.
Buy the book from Amazon UK
Buy the book from Amazon US
---
What does the MLA Style Guide do?
The MLA Style Guide offers a complete set of standards showing you how to present academic writing and research. These standards are not questions of correct or incorrect writing: they are merely a coherent system which ensure consistency and rigour in the presentation of academic writing. The standards show you how to –
embed quotations
cite secondary sources
give bibliographic references
present names and titles
avoid plagiarism
cite electronic sources
---
How does the MLA Style Guide work?
The MLA citation style uses a simple two-part system for citing sources. When you refer to or quote from a secondary source within your work, you provide a citation which points to an alphabetical list of Works Cited that appears at the end of the essay or term paper. The citation is an abbreviation given in brackets (Smith 128) and the full details of this source are listed at the end of your work. This example refers to page 128 in work written by someone called Smith.
This system of referencing identifies and credits the sources you have used in the essay. It allows someone reading the essay to identify and if necessary consult these secondary sources.
---
References within your text
In MLA style, you place references to secondary sources in the essay to briefly identify them and enable readers to find them in the list of Works Cited. These references should be kept as brief and as clear as possible.
Give only the minimum information needed to identify a source. The author's last name and a page reference are usually sufficient. Example – (Barber 45).
Place the reference as close as possible to its source, preferably where a pause would naturally occur, which is often at the end of a sentence.
Information in the brackets should not repeat information given in the text. If you include an author's name in a sentence, you don't need to repeat it in your reference.
The reference should precede the punctuation mark that concludes the sentence, clause, or phrase that contains the cited material.
Electronic and online sources are cited just like print resources in references. If an online source lacks page numbers, omit numbers from the bracketed references.
Examples
| | |
| --- | --- |
| Author's name in text | Browning has expressed this concern (122-25). |
| Author's name in reference | This concern has been expressed (Browning 122-25). |
| Multiple authors | This hypothesis has proved very persuasive (Bradley, Morgan, and Smith 46). |
| Two works cited | (Beetham 68; Covington 34) |
| Volumes and pages | Robinson 3: 14-19 |
| Corporate authors | (United Nations, Economic Report 51-56) |
| Online sources | Fetting, pars. 5-8) |
---
List of Works Cited
References cited in the text of an essay or a research paper must appear at the end of your work in a list of Works Cited. This is also known as a bibliography. This list provides the information necessary to identify and retrieve each source that has been used in your work.
Arrange the entries in alphabetical order of the authors' last names (surnames), or by the title for any sources without authors.
Capitalize the first word and all other principal words of the titles and subtitles of cited works listed. Do not capitalize articles, prepositions, coordinating conjunctions, or the "to" in infinitives. (The Angel at the Grave)
The titles of books and journals should be shown in italics. Choose a font in which the italic style contrasts clearly with the regular style.
Shorten the publisher's name. For example, omit articles, business abbreviations (Co., Inc.), and descriptive words (Press, Publisher).
When multiple publishers are listed, include all of them, placing a semicolon between each.
When more than one city is listed for the same publisher, use only the first city.
Use the conjunction 'and', not an ampersand [&], when listing multiple authors of a single work.
Do not use the abbreviations p. or pp. to designate page numbers.
Indentation: Align the first line of the entry flush with the left margin, and indent all subsequent lines (5 to 7 spaces) to form a 'hanging indent'.
---
Bibliographic description
References to an entire book should include the following elements:
author(s) or editor(s)
complete title
edition, if indicated
place of publication
shortened name of publisher
date of publication
medium of publication
The basic format
Lastname, Firstname. Title of Book. Place of Publication: Publisher, Year of Publication. Medium of Publication.
One author
Nabokov, Vladimir. Strong Opinions. New York: McGraw-Hill, 1973. Print.
Another work, same author
—. Speak, Memory: An Autobiography Revisited. New York: Knopf, 1999. Print.
Two authors
Cresswell, Susan, and Charles Hoffman. Theaters of Experiment. London: Thames and Hudson, 2004. Print.
Three authors
Loewen, Thomas, Bentham Ginsberg, and Stuart Jacks. Analyzing Democratic Government. 3rd ed. New York: Norton, 1994. Print.
More than three authors
Sander, Jefferton et al. Beyond the Utility Principle. London: Heinemann, 1993. Print.
Editor (anthology or collection of essays)
Hillman, Charles, and Margery Hamilton, eds. Defining Milton's Poetics. Cambridge: Cambridge University Press, 2004. Print.
No author or editor
The Writers' and Artists' Yearbook. 2014 ed. London: A and C Black. 2014. Print
---
Articles in books
Jones, Josephine Teresa. "Within These Walls." Feminism and its Relation to Architecture. Ed. Maureen Harrington. New York: Lexington Books, 2010. 109-24. Print.
Reprinted article
Huntford, Thomas. "The Misreading of Ken Kesey." Review of Contemporary Fiction 4.3 (1985): 30-43. Rpt. in Contemporary Literary Criticism. Ed. Carleen Rilmont. Vol. 61. Detroit: Gale, 1990. 308-10. Print.
Articles or entries from reference books
If the article or entry is signed, put the author's name first; if it is unsigned, give the title first. For well-known reference works, it is not necessary to include full publication information. Include only the title of the reference source, edition, and date of publication.
Dictionary entry
"Hostages." Def. 1a. Shorter Oxford Dictionary. 1993. Print.
Encyclopedia entry
Merrington, Barbara. "Cooking with Gas." The Oxford Encyclopedia of Food and Drink in America. Ed. Andrew F. Smith. Vol. 2. 2004. Print.
---
Articles in journals, magazines, and newspapers
References to periodical articles must include the following elements:
author(s)
article title
publication title
volume number
publication date
inclusive page numbers
medium of publication
Issue numbers should be stated as decimals to a given volume number. For instance, the number 25.4 refers to Volume 25, issue 4. When citing newspapers, it is important to specify the edition used (early ed. or late ed.) because different editions of a newspaper might contain different material.
Journal article, one author
Mentone-Cassidy, David. "Beyond Boundaries: Reaching Multi-Cultural Development." Journal of Tourism Research 37.4 (2010): 141-63. Print.
Journal article, two authors
Langton, Jennifer, and Warren Furst. "Exploring Challenges and Opportunities Associated with Sharing Medical Resources." International Journal of Hospital Management 29.2 (2010): 261-7. Print.
Magazine article
Keinster, Donald A. "Corporate Greed: The New Economics." Vanity Fair 23 Nov. 2012: 84-91. Print.
Newspaper article, no author
"American Independence Day: The View from England." The Guardian 31 May 2012, 16. Print.
---
Film, video, or audio recordings
Film
Manhattan. Dir. Woody Allen. 1979. Videocassette. MGM/UA Home Video, 1991.
Sound recording
Bob Dylan. Highway 61 Revisited. Columbia / Sony, 2004. CD.
Specific song
Bob Dylan. "Desolation Row." Highway 61 Revisited. Columbia / Sony, 2004. CD.
CD-ROM
Citations should include the medium of the electronic publication (CD-ROM), the name of the vendor that made the material available on CD-ROM, and publications dates for the version used, if relevant.
"Matrimony." Encyclopaedia Britannica. CD-ROM. London: Encyclopaedia Britannica Inc. Multimedia, 2014.
---
Citing online sources
References to online sources, like those for printed sources, should provide the information that both identifies a source and allows it to be located and retrieved again.
All references should include the medium of publication (Web) and the date the content was viewed.
If the source is difficult to locate, you should list the complete Web address (URL) within angle brackets after the date. In many cases, it is also necessary to identify the Web site or the database that has made the material available on line.
There are currently no fixed standards governing the organization and presentation of online publications. Consequently, the information that is available can vary widely from one resource to another. In general, references to online works require more information than references to print sources.
For instance, the online encyclopaedia Wikipedia is being edited and updated all the time – so in some instances it might be necessary to record not only the date of an entry being visited, but even the time of day.
See sections 5.6.1-4 in the MLA Handbook for more complete information on creating references to online sources.
Web page
This example includes the optional URL. All other examples below use the shorter citation format.
Cornell University Library. 'Introduction to Research'. Cornell University Library. Cornell University, 2009. Web. 19 June 2009 <http://www.library.cornell.edu/resrch/intro>.
Personal web site
If a work is untitled, you may use a genre label such as Home page, Introduction, etc.
Remington, Gregory. Home page. Web. 16 Nov. 2008.
Entry in an online encyclopedia
'Epstein, Jacob'. Encyclopaedia Britannica Online. Encyclopedia Britannica, 1999. Web. 27 Apr. 2009.
Article from a less familiar online reference book
Norton, John S. 'European History and Islam'. Encyclopedia the Muslim World. Ed. Richard C. Martin. New York: Macmillan Reference-Thomson/Gale, 2004. Web. 4 July 2009.
Article in an online periodical
If pagination is unavailable or is not continuous, use n. pag. in place of the page numbers.
Chatterton, Heather. 'The Epidemic in Saratoga'. Salon 19 Feb. 1999: n. pag. Web. 12 July 1999.
Article in a full-text journal accessed from a database
Valentino, Jose Antonio. 'The Other Side of Facebook'. New Yorker 86.28 (2010): 54-63. Academic Search Premier. Web. 25 Jan. 2011.
Online book with print information
Henderson, Robert. South of Boston. 2nd ed. New York: Henry Holt, 1915. Google Books. Web. 30 June 2009.
The examples of MLA style and format listed on this page include many of the most common types of sources used in academic research. For additional examples and more detailed information about MLA citation style, refer to the following resources:
MLA Style Manual and Guide to Scholarly Publishing. 3rd ed. New York: Modern Language Association of America, 2008. Print. [Amazon US]
MLA Style Manual and Guide to Scholarly Publishing. 3rd ed. New York: Modern Language Association of America, 2008. Print. [Amazon UK]
MLA Handbook for Writers of Research Papers. 7th ed. New York: Modern Language Association of America, 2009. Print. [Amazon US]
MLA Handbook for Writers of Research Papers. 7th ed. New York: Modern Language Association of America, 2009. Print. [Amazon UK]
The Chicago Manual of Style: The Essential Guide for Writers, Editors and Publishers. 16th ed. Chicago: University of Chicago, 2010. Print. [Amazon US]
The Chicago Manual of Style: The Essential Guide for Writers, Editors and Publishers. 16th ed. Chicago: University of Chicago, 2010. Print. [Amazon UK]
© Roy Johnson 2014
---
---
More on How-To
More on literary studies
More on writing skills
---