an illustrated history of architecture 1900-2000
This is a scholarly history of modern architecture which has gone through a number of editions and has been kept up to date with obvious enthusiasm from the author, who is an authority on the subject. Peter Frampton starts with three short chapters that give the historical background to the modern era. That is, the architectural thinking, urban planning, and the technological developments after 1750 that led to the twentieth century, when what we call modern began.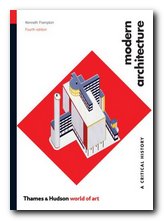 The narrative proper begins with the Arts and Crafts movement in England, then moves on to the Americans Louis Sullivan and Frank Lloyd Wright. Both of them started their careers in Chicago, which was rebuilding itself as a city following the Great Fire of 1871. Next comes Gaudi, who I had not realized was influenced by Ruskin, Richard Wagner, and the French architectural theorist Viollet-le-Duc.
I rather like Frampton's approach of devoting one short chapter to each style or designer, because there is just enough to assimilate without being over faced, and the succinct form encourages comprehension of the subject.
The celebrated James Rennie McIntosh went from spectacular early success to a very sad late career decline and an end in near obscurity. This is surprising, given the enduring popularity of his work. It would seem that even architecture has its shooting stars.
There are chapters on the Vienna Secession and Italian futurism, and in addition to these movements he includes studies of individual designers such as Adolf Loos, Henry van der Velde, Tony Garnier, and Auguste Perret. Some of these movements produced more designs than finished buildings, but Frampton includes their plans on the grounds that some were more influential than completed projects.
It is interesting to note that almost all the architectural visionaries he discusses were politically radical and leftist of one stripe or another. But none of them was able to reconcile the fact that their most celebrated products as artists were beautifully luxurious homes for rich bourgeois patrons.
The Bauhaus and Neue Sachlichkeit movements generated some amazingly innovative designs and buildings, until the Stock Market collapse of 1929 and the political swing to the right caused many of its stars to flee both east and west (only the latter survived). It's quite surprising that many of their buildings look remarkably similar to those being built in major western cities today, almost one hundred years later.
Frampton sees Le Corbusier as the most important figure of mid century modern architecture, though it should be kept in mind that many of the high-rise social housing projects built under his influence (with their disastrous elevated walkways, vandalized lifts, and rubbish-strewn communal areas) have since been demolished, not long after they were first built.
A chapter on Soviet architecture does its best to show radical ideas emerging from the early years of the Proletkult, but finally has to admit that all creativity was crushed by the dead hand of Stalinism from 1930 onwards.
The latter part of the book plots the development of those people he sees as seminal influences – Le Corbusier, Mies van der Rohe, Phillip Johnson, and Buckminster Fuller. And although he includes a chapter called 'The New Brutalism' which largely features the work of Alison and Peter Smithson in the UK, it's fairly clear that this is precisely the sort of work which has given architecture and publicly commissioned work a bad name in the latter part of the last century.
For this fourth edition Kenneth Frampton has added a major new chapter that explores the effects of globalization on architecture in recent years, the rise of the celebrity architect, and the way in which practices worldwide have addressed such issues as sustainability and habitat. The bibliography has also been updated and expanded, making this volume more complete and indispensable than ever.
The book has a comprehensive critical apparatus and huge bibliography, but it would also benefit from a glossary of architectural jargon. I had to look up the meaning of terms such as trabeated. atectonic, entasis, celerestory, oneric, lithic and phalantsery. Be warned: it's not an easy read, but it's excellent value.

Buy the book at Amazon UK

Buy the book at Amazon US
© Roy Johnson 2010
---
Kenneth Frampton, Modern Architecture: a critical history, London: Thames and Hudson, 4th revised edn, 2000, pp.424, ISBN: 0500203954
---
More on architecture
More on technology
More on design
---