complete guide to e-learning using Moodle
I went to a Moodle training course recently, and the universal cry there was for training manuals or guidance books which would talk you through the program and its features. This new software package is sweeping the world of further and higher education. Just in case you didn't know, Moodle is an Open Source (that is, free) course management system (CMS). Or if you prefer, a virtual learning environment (VLE) into which tutors can upload their course materials.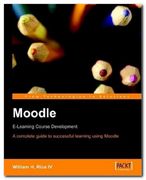 It's a sophisticated and complex program which offers all sorts of features to please teachers and students alike. Interactive exercises; journals; email and chat; Wikis; forums; and surveys – all in addition to the basic learning materials, which can be uploaded in any file format. Moodle is built on what's called a 'social constructivist' model.
That is, students are encouraged to build their own learning experiences by engaging with teaching materials, interactive exercises, tutors, and fellow students.
Moodle organises everything for you – from individual student enrolments to databases of complete course results. Students can store drafts of their work, see their quiz results, build learning diaries, or participate in joint project-building. Tutors can set time limits for tests,
First off the block in guidance manuals there was Jason Cole's book Using Moodle which gave a description of the system. Now comes William Rice's guide to building courses. The difference between the two is that Rice gets further under the bonnet and shows you the workings of Moodle. More importantly, he tells you in advance what the consequences of your choices will be.
Moodle is so modularised and flexible that you can arrange your course contents however you wish (well, almost). But your choices (which can be made very easily) can also have hidden knock-on effects.
The Moodle interface can also be changed at a single click to work in any one of a number of languages. It offers you the opportunity to add course materials in any format – and to edit your pages and turn them into web pages without having to learn HTML coding.
And if you want to be really adventurous in terms of pedagogy, you can have students assessing their own and other students' work, voting on the relevance of discussion contributions, and collectively building course-related glossaries and encyclopedias (using a Wiki).
William Rice makes course design clear by breaking down the process into separate elements – for instance, showing the difference between static pages (text and Web pages) and interactive pages (quizzes, journals, and assignments). Most importantly, he explains the advantages and limitations of each.
For the technically minded, there's an entire chapter on how Moodle is installed and configured to suit your needs. On the other hand, if you want to practice or 'try before you download', there's an excellent demonstration version of Moodle at demo.moodle.org. I actually read the book and had the demo open on screen at the same time, to check each feature for real. But you don't have to go that far: there are screenshots illustrating every item.
There is extensive coverage of the quizzes, lessons, assignments, and other pedagogic tools available, and a chapter which introduces all the add-ons and plug-in modules which are available for free download. The only thing which struck me as odd was a chapter about welcoming students and making your starting page friendly – which puzzlingly came near the end of the book.
I'm working on a Moodle-based project at the moment, and can vouch for the comprehensiveness of Moodle's own online documentation – but I imagine most course designers (like me) will feel more confident with a printed manual to hand. This is the one I would suggest you go for.

  Buy the book at Amazon UK

  Buy the book at Amazon US
© Roy Johnson 2006
---
William H. Rice, Moodle: E-Learning Course Development, Packt Publishing: Birmingham, 2006, pp.236, ISBN: 1904811299
---
More on online learning
More on technology
More on digital media
More on web design
More on computers
---