English language – its history and peculiarities
If you are interested in language, this is the sort of book which will both entertain you and stimulate you to learn more. Bill Bryson re-tells the history of the English language in a way which is both amusing and well-informed. His account is shot through with a gift for bringing statistics alive and illustrating complex issues with striking anecdotes. He covers the history of the language, its odd spelling system, and its even stranger pronunciation; varieties of English from around the world; American English; swearing; where words and names come from, and how English is likely to develop in future.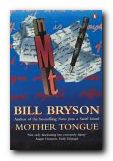 He has an excellent chapter on the irregularities of English spelling. This explains why problems occur, he outlines the various doomed schemes for spelling reform, and he even mounts a persuasive defence of retaining all the irregularities.
Imposing Latin rules on English structure is a little like trying to play baseball in ice skates
He is astonishingly well informed. Although his principal focus is English, you will come away with a lot of information on many other languages. Basque for instance is not related to any other language in the world. [Not many people know that.]
His general approach is refreshingly democratic and anti-stuffy. Most of the people who have tried to regulate language have failed, and he is happy to explain where they have gone wrong.
He pays homage to the great dictionary compilers – Samuel Johnson, Noah Webster, and John Murray – all of them amateurs with no professional training – and he is quite obviously intimately acquainted with their works.
There's a very amusing chapter on swearing in which he tackles the hard Anglo-Saxon words head on – without any sense of coyness.
Bill Bryson has recently become a best-selling travel writer This book demonstrates the solid foundations of scholarly linguistic knowledge on which that reputation has been built.
It's packed with interesting nuggets of information about English in particular and language in general. Readable; entertaining; highly recommended.
© Roy Johnson 2009

  Buy the book at Amazon UK

  Buy the book at Amazon US
---
Bill Bryson, Mother Tongue, London: Penguin Books, 2nd edn, 2009, pp.288, ISBN: 0141040084
---