small, portable, light, and cheap
I bought my first netbook just after the first Asus EeePCs were launched. At that time they were in short supply. Now the shops are full of them. You're spoilt for choice. But what's the difference between a netbook and a notebook (you might ask)? Well, netbooks are smaller, cheaper, and many of them use open source software such as Linux operating systems and the Open Office suite which does away with the need for (expensive) Microsoft programs.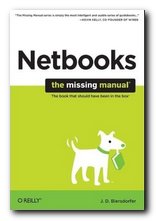 They are also designed to be low on power consumption, and they don't come with floppy or CD drives: you use USB ports instead. They have automatic Internet connection, and assume that you'll be emailing, downloading software, and maybe even storing your work on the Web.
But one thing's for certain: they won't come with any user manual. That's why this best-selling series from O'Reilly exists – to plug the gap left by equipment manufacturers who can't keep up with support for their own product development.
Because netbooks have been such a huge success, versions using Windows have rapidly appeared, to cater for people who don't want to tangle with new software. Fortunately, Jude Biersdorf's book takes both Windows and Linux versions of netbooks into account. She shows you how to choose a netbook that will deliver what you require, then how to set it up using either of the most popular operating systems.
Even experienced computer users may not be comfortable in dealing with all these novelties all at once. She's quite right – you've got to consider any shortcomings against the big advantages these devices offer. The keyboard might be a bit cramped, but the whole thing weighs just three pounds! Mine fits comfortably in my overcoat pocket.
If you're new to Linux (she uses the popular Ubuntu version) there are full instructions on finding your way around. It's very simple, because everything is based on big, clickable icons. The fact is that, even though open source software is completely free, it looks very much like Windows and Apple Mac when viewed on screen. All these interfaces are eventually starting to look the same.
She then deals with connecting peripherals. Your netbook won't even have a mouse – so there are full instructions, and tips for downloading the latest drivers and software.
That's where netbooks are really good : they update themselves all the time, and two clicks takes you to the latest version of whatever you want.
There's a section on connecting to the Internet. You might not even need this. Mine recognised my home broadband as soon as I switched it on, and it's never been a problem since.
But just in case you're a first time user, she shows you how to set up an email account, how to make it secure, and how to navigate the web using a browser – Firefox and Google Chrome are recommended.
When it comes to standard use of computer software, most users will require a word-processor, spreadsheet, PowerPoint-type presentation – and so on – which are collectively called an office suite. She shows you how to deal with the stripped down version of the Microsoft Office Suite – which costs between $100and $150. I don't know why she bothered, because she then goes on to deal with Open Office and Google Docs – both of which are free. You can even store your information on line with Google, which is a cost-free form of back-up.
[Why are all these services free? Because storage space price is plummeting, and these companies want you as a potential customer on their books.]
If you haven't already got one, she shows you how to set up an email address and make full use of your browser to download extra tools – with the emphasis very much on free I was glad to note.
She also covers all the instant messaging software options and the social networking services, free phone calls, and picture-sharing. In fact there's a whole section on how to edit and enhance your pictures – plus the same thing for MP3 and other sound files.
There's also plenty on security, maintenance, upgrading, troubleshooting, and a really handy selection of online resources. So if your're planning to buy or use a netbook, or if you want a user-manual to keep handy – this one will do the trick very nicely.
© Roy Johnson 2009
---
J.D.Biersdorfer, Netbooks: the missing manual. Sebastopol (CA) O'Reilly, 2009, pp.320, ISBN 0596802234
---
More on technology
More on digital media
More on online learning
More on computers
---