style and text-presentation rules for writers and editors
New Hart's Rules started its life as the house style rule book for editorial principles at Oxford University Press. It was written by Horace Henry Hart who was Printer to the Press, and first published in 1893 as quite a slim volume. But it has become so popular ever since that it grew in size and eventually reached a thirty-ninth edition. Now it has been enlarged even further and completely re-cast in a new format, adapted from The Oxford Guide to Style, but retaining much of the content and the spirit of the old Hart's Rules.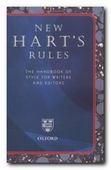 The guide deals with the typographic details of assembling writing ready for its appearance in printed form. This includes punctuation, capitalization, italicization, abbreviations, and the presentation of numbers. The latest edition also has completely new chapters covering law and legal references, tables, illustrations, indexing, plus copyright and other publishing responsibilities. Each chapter has been given far more illustrative examples.
For instance, my edition of the old 39th edition has less than 200 pages: this new version has more than 400. The beauty of this book – in common with other style guides which have become classics – is that it quickly establishes the general rule, then all further examples are the difficult, awkward, and obscure cases. For those people endlessly puzzled by spelling-checkers, there is an explanation of the rules governing -ise and -ize. OUP have always favoured -ize, so surprisingly it's criticize yet compromise, and agonize yet televise.
The principles underlying the need for consistent conventions remain as important as ever. The presentation of money, time, dates, and even the points of the compass are included, as well as temperature, Latin plant and animal names, capitalization of titles, word breaks (hyphenation) and such wonderfully arcane details as the need for a possessive 's' in Roman following an italicized title – as in the Dreadnought's crew.
There's an explanation of proof correction (with examples) and a guide to punctuation, symbols, and the presentation of scientific equations and formulae. Then in the centre of the book there is a section dealing with the alternate spellings of 'difficult' words (colander, haemorrhoids, skiing) then a very useful explanation of the rules on the tricky issue of doubling consonants at word endings (billeted, compelled, travelling) and plurals formed in non-English words (bacilli, errata, matrices).
Hart then takes on the topic of language change in listing those words which have progressed from compounds to single words (a process which is usually faster in the US than the UK) – antifreeze, lifetime, tonight – though it is hard for a book of this type to keep up with contemporary developments in this respect. Do we write word processor, word-processor, or wordprocessor, for instance? However, Hart has no hesitation in recommending birth-rate, copy-book, and test-tube.
Guidance on how to deal with foreign languages include sections on French, German, Italian, and Russian – plus Welsh, Dutch and Afrikaans which have been added in the latest edition.
The latter part of the book includes a complete checklist of topics to be covered in preparing a book for publication: text, footnotes, illustrations, bibliographies, tables, and even how to deal with plays and poetry. And finally, since it's quite hard to locate items in such a tightly-compacted work of reference, there's an excellent index.
This is a source for anyone interested in the preparation of text for print. If you have a research paper, an article, or a book which you hope will see light of day as a publication, then do yourself a favour and buy this marvelous guide to the small details which make all the difference between an amateurish and a properly edited piece of writing.
© Roy Johnson 2005

  Buy the book at Amazon UK

  Buy the book at Amazon US
---
New Hart's Rules, Oxford: Oxford University Press, 2005, pp.417, ISBN: 0198610416
---
More on dictionaries
More on language
More on literary studies
More on grammar
---