tutorial, commentary, study resources, and web links
No Name (1862) was the follow-up to Wilkie Collins' big success with The Woman in White (1860) which established him as a best-selling author specialising in the 'sensation novel'. He was an amazingly prodigious writer who produced twenty-five novels, more than fifty short stories, at least fifteen plays, and more than 100 non-fiction essays.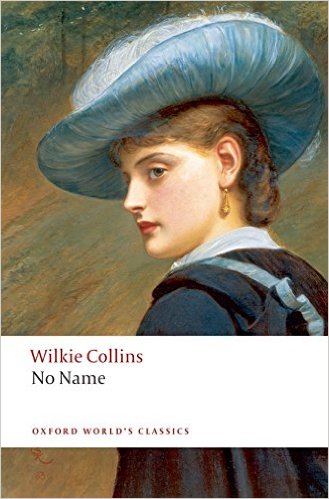 He was one of the most highly paid authors of his day, yet he never became rich. This was partly because he maintained two separate families in expensive London houses, and partly because he had a fairly lavish life style. He also became a cocaine addict – although the drug at that time (in the form of laudanum) was relatively inexpensive, and obtainable over the counter in most chemists' shops.
---
No Name – a note on the text
No Name first appeared as a forty-four part serial in All the Year Round, the weekly periodical owned by Charles Dickens. The conventions of publication at that time were to develop a 'readership' or following via serial publication, then capitalise on this as soon as possible with publication in book format. Collins completed the manuscript of No Name on 24 December 1862, and a three volume edition was published a week later on 31 December 1862 by Sampson Low. This was too late to exploit the Christmas market, but an astonishingly rapid turn around given today's enormously lengthy publication cycles.
This three volume edition sold out completely on the first day of its publication, and Collins was paid for it what then was considered the enormous sum of £3,000. This he badly needed, because he was hopelessly in debt.
Like many of Collins' other novels, there is also a stage dramatisation of the story. This was published separately in 1863 but never performed. It was not written by Collins himself but commissioned from Bayle Bernard, because Collins was ill to write it at the time.
The main purpose of these dramatisations was to preserve the author's copyright on the story, since under the law at that period a novel was not protected from piracy unless the author had first registered his own adaptation.
Collins produced his own stage version of the story later in 1870, but he was not very pleased with the result. He engaged Wybert Reeve to re-write it for him, and the play was staged but never achieved success.
---
No Name – critical commentary
The sensation novel
Wilkie Collins has a strong claim to being the father of the 'sensation novel' – a literary genre that became very popular in the 1860s and the years following. His first serious novel Basil (1852) is the strongest part of that claim, which he reinforced with The Woman in White (1860) which became an instant best-seller and his best known work.
The sensation novel – often described as 'a novel with a secret' – combined elements of the Gothic with social realism and everyday domestic life. The plots of these novels were designed to shock readers – within the limits of what was permissible at the time. Typical elements included bigamous marriages, disputed wills, forgery, domestic violence, imprisonment, assumed identity, and madness.
No name contains its fair share of these topics. It includes concealed identity, illegitimacy, a complex and disputed will, a false marriage, and all the ramifications of the English law of inheritance and its effects on women.
Identity
The central figure in the novel is Magdalen Vanstone, but once her parents have both died she loses her family name – because they were not married at the time of their daughter's birth. From this point on she assumes a number of alternative identities. The first is as Miss 'Bygrave' as part of Captain Wragge's theatrical management. Next she successfully impersonates her own governess Miss Garth in her confrontations with Noel Vanstone and Mrs Lecount.
After this she becomes Mrs Vanstone following her marriage to Noel. This lasts until his death, at which point she becomes technically nameless again – because the marriage is technically invalid, since she has given the false name of Bygrave on her marriage licence.
She then becomes 'Louisa', acting as a maid to Admiral Bertram in her quest to locate the Secret Trust. When her efforts are uncovered by his retainer Mazey she is expelled from the estate – at which point she takes up the name of Mrs Gray in her search for employment in London.
It is no accident that at this point she has a psychological breakdown. She has been dispossessed of her family, her 'rightful' inheritance, and the name which establishes her position in society.
Illegitimacy
Norah and Magdalen are the daughters of Andrew Vanstone, who is the owner of a country estate in Coombe-Raven, Somerset. But unknown to them (and everyone else) they are both illegitimate children. This is because Vanstone as a much younger man married an American woman who was paid off by his family. He has been living with the woman who is mother to the two sisters, but doing so in an unmarried state.
When the American woman dies, Andrew and Mrs Vanstone hurriedly depart for London to get married. This would appear to regularise the status of the two daughters, but technically they remain illegitimate – because their father and mother were not married at the time of their birth.
This is confirmed when Vanstone and his wife die suddenly, and by the laws of inheritance Vanstone's estate goes to his legitimate next of kin – who happens to be his estranged brother Michael. The two sisters are therefore denied their 'natural' right to inherit their father's wealth, and they are evicted from their own home – by a combination of English inheritance law and the greed of their relatives. This is what propels the events of the whole of the remainder of the novel.
As Virginia Blain points out in her introduction to the Oxford Classics edition of No Name:
Illegitimacy, with its connotations of allowing no legal inheritance or possession of property, no given social class, no status as a responsible person in the eyes of the law, no legal name, serves here as an evocative and subversive metaphor for the position of all women as non-persons in a patriarchal and patrilineal society.
The will
Andrew Vanstone is the original source of the problematic sequence of inheritance. He makes a will, leaving his money and estate to his wife and two daughters. But at the time of making the will he is not married to their mother, and his daughters are therefore illegitimate. He marries their mother when his first 'secret' wife dies – but that is too little, too late. His will was drawn up before the marriage. His now legitimate wife Mrs Vanstone also dies at the same time as he does.
Under English law therefore, his entire estate goes to his next of kin – his estranged brother Michael, who heartlessly makes no concessions or recompense towards the two orphaned nieces, Norah and Magdalen, whom he regards as bastard children.
When Michael Vanstone dies the inheritance passes automatically to his son Noel, a feeble, mean, and self-indulgent aesthete who is in thrall to the scheming housekeeper Mrs Lecount. When he marries Magdalen, it looks as if she has secured some re-attachment to an inheritance that she regards as hers by moral right. But there is a factor which neither she nor Wilkie Collins seem to take into account.
She has married Noel Vanstone using a false name – Miss Bygrave – so the marriage is technically invalid. When Noel Vanstone suddenly dies she is not legally his wife and next-of-kin. But by then Mrs Lecount has also bullied him into drawing up a desperately complicated will with obfuscating clauses and a Secret Trust. This provides the plot driver for the final chapters of the novel, until the inheritance and its rightful owners are re-united by the marriage of George Bertram and Norah Vanstone in a somewhat fairy tale conclusion.
Problems
There are however a couple of serious problems lying at the heart of events and centred on Magdalen's motivation. Having been disinherited by the combination of the law of primogeniture and the greed of her relatives, she embarks upon a scheme of recovering her inheritance by marrying the very man who has robbed her of her rights.
But it is not made clear how this would be in any way effective – since by English law at that time all her assets in money or property would automatically become the property of her husband. There is talk of making a 'settlement' on her – that is, specifying a separate allowance over which she would have legal control – but not much is made of that issue.
Moreover, any such arrangement would be legally invalidated by the fact that she marries under a false name – Miss Bygrave – which would render the whole marriage null and void in a court of law. She would be guilty of 'personation' – pretending to be someone else.
Her desire for revenge over her rapacious relative is understandable – but neither she nor Wilkie Collins seem to have a clear objective or 'plan of engagement'. She cannot recover the money by marriage; she cannot reverse the system of inheritance; and short of murdering her husband (which she never contemplates) she cannot gain control over the estate.
Given the highly over-wrought state of Magdalen's sensibility regarding her plan to regain the inheritance, it is also surprising that Collins makes absolutely no mention of the sexual consequences of her marrying Noel Vanstone. She does provide Robert Kirke with an account of her past, but by nineteenth century standards she has a lot of 'past' to account for.
She is an illegitimate daughter; she has previously been semi-engaged to a feckless neighbour (Francis Clare); her family has become impoverished because of its illegal status; she has acted on the stage under an assumed name; and she has been married to a man she despises for the sake of money. This is quite a substantial volume of what we might now call 'baggage' to make her acceptable.
It is worth noting that at that time women in the theatrical profession were generally regarded as not much more than prostitutes. Actresses moved round from one town to another, unsupervised, un-chaperoned, in the company of single and married men – just as Magdalene does with Wragge and his troupe. Robert Fiske takes on a wife who would not be acceptable into most households in polite society at that time.
Plotting
Magdalen's plan of vengeance on Noel Vanstone doesn't make clear how it will enable her to get justice or the inheritance – the money will remain her husband's, and she will remain his property
It has to be said that towards the end of this over-elaborated story, the plot collapses somewhat into a spate of melodramatic improbabilities. Magdalen not only secures a job as maid in the very house where the Secret Trust is kept. She does this by impersonating someone else, but she manages to read the letter of Trust over the shoulder of the Admiral, who is inspecting his private papers whilst sleepwalking.
She is then detected in her spying by the Admiral's loyal retainer Mazey, but allowed to escape from the estate next morning. She then falls into a state of destitution and dangerous illness, living alone in the poor streets of London – only to be rescued by Robert Kirke. This is a man who has just sailed back from China and who has only ever seen her once in his life before, but fallen in love with her at first sight. Wilkie Collins is very inventive in his plotting and characterisation – but these are a few coincidences and plot contrivances too far.
---
No Name – study resources

No Name – Oxford Classics – Amazon UK

No Name – Oxford Classics – Amazon US

No Name – Independent Publishers – Amazon UK

No Name – Independent Publishers – Amazon US

The Complete Works of Wilkie Collins – Kindle eBook
---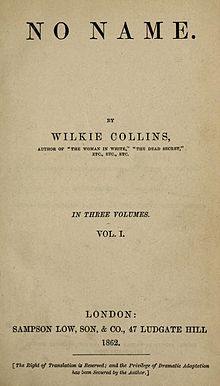 first edition – title page
---
No Name – plot synopsis
The First Scene
I. The Vanstone family assemble for breakfast. A mysterious letter arrives from New Orleans, which means Mr Vanstone and his wife must go to London on 'family business'.
II. Next day the governess Miss Garth is accosted by the dubious Captain Wragge who is making enquiries about Mrs Vanstone.
III. Miss Garth gets a letter from Mrs Vanstone explaining that Wragge is a penniless scrounger, and that she is in London to see a doctor, who has confirmed that she is pregnant. But this does not explain the letter from New Orleans.
IV. Neighbour's son Frank Clare fails as an engineer and returns home. He is invited by the spirited Magdalen to join in a theatrical party at Clifton.
V. Magdalen becomes enthusiastically caught up in preparations for the theatricals – and her behaviour changes.
VI. At rehearsals for The Rivals Magdalen is a big success, and she goes on to play two parts. Her sister Norah disapproves, and Miss Garth worries what the success will lead to.
VII. Next day Norah reproaches Magdalen for her developing relationship with Frank Clare. They quarrel, and Magdalen is unable to effect a reconciliation.
VIII. Mr Clare receives the offer of an opening for Frank in the City, which he takes up without any real enthusiasm.
IX. Three months later Frank returns with the news that the company wants to send him to China for five years. Magdalen gets her father's permission to marry Frank, but he proposes a probationary waiting period of twelve months.
X. When Mr Clare also agrees to the proposal, Mr Vanstone sends for his London lawyer, but then later the same day he is killed in a train crash.
XI. Mrs Vanstone goes into labour. The lawyer Pendril arrives and urgently requires her signature on a legal document. But she and her baby die the same day.
XII. Mr Pendril reveals to Miss Garth that  Mr and Mrs Vanstone went to London  earlier in the year to get married.
XIII.  Pendril also reveals  Andrew Vanstone's past –  married when young to an American woman, who had to be paid off. There are conflicts with his brother Michael and his will is useless because it was made before he was married.
XIV. Magdalen has listened to these revelations and reports them to Norah.
XC. Penril locates Michael Vanstone, who has inherited all his brother's wealth and refuses to help Magdalen and Norah. Magdalen plans to challenge him. Miss Garth offers to look after the two sisters in London. Magdalen agrees reluctantly that Frank should be sent to China.
The sisters leave Coombe-Raven and go to live at a school run by Miss Garth's sister in Knightsbridge. After a month Magdalen runs away, contacts the theatre manager Huxstable, then disappears.
The Second Scene
I. When Magdalen arrives in York to see Huxstable, she is intercepted by the rogue Captain Wragge, who preys on her vulnerability to divert and (virtually) abduct her. He persuades her to hide from detection in his lodgings.
II. Magdalen encounters the distressed and confused Mrs Wragge. The Captain defends his occupation as a swindler and offers to 'help' Magdalen.
III. Magdalen wants to retrieve her inheritance from her uncle and thinks to use Wragge as a spy and agent – despite her reservations about him. Wragge becomes her theatrical promoter (for 50% of her earnings) and organises their escape from York – at her expense.
Between the Scenes
Wragge chronicles his plan to turn Magdalen into a one-woman touring show. Contact is established with Norah via poste-restante letters, and @Magdalen is a big success on stage. Wragge makes enquiries for Magdalen about the inheritance, and when Michael Vanstone dies she turns her attention to his son Noel. She leaves for London with Mrs Wragge, whilst Wragge himself plots to betray her.
The Third Scene
I. From seedy lodgings in Lambeth Magdalen watches the house opposite where Noel Vanstone is staying. She learns he is due to leave the next day.
II. Magdalen disguises herself as Miss Garth and goes into town where she sees Norah suffering as a governess. Then she calls and meets Mrs Lecount and her aquarium, with a pet toad.
III. Magdalen has an interview with Noel Vanstone and Mrs Lecount. She asks him to return half the inheritance: he refuses. Mrs Lecount suspects Magdalen's disguise and cuts off a fragment of her skirt.
IV. Wragge's blackmailing letter arrives chez Vanstone, who dithers indecisively over replying. Mrs Wragge thinks she sees a ghost when Magdalen returns dressed as Miss Garth.
Between the Scenes
Vanstone replies to the Times advert offering only five pounds as reward. Wragge therefore toadies to Magdalen. Norah gives up her job. Frank leaves his job in China and breaks off his engagement with Magdalen, who goes into a state of shock. She employs Wragge to trace Vanstone, who has moved to Aldborough, Suffolk.
The Fourth Scene
I. Wragge rents a house under the assumed name of Bygrave. Magdalen reveals her desperate plan of revenge – to marry Vanstone.
II. Handsome Robert Kirke makes enquiries about Magdalen. He has fallen in love with her at first sight, but goes back to sea to avert his over-emotional confusion.
III. Wragge intends to court Mrs Lecomt and proposes to get rid of Mrs Wragge. Magdalen refuses this suggestion. They set out to meet Vanstone and Mrs Lecount.
IV. Wragge flatters Mrs Lecount with his mugged-up science, and Vanstone is charmed by Magdalen, to whom he extends a tea invitation.
V. Magdalen and Wragge visit Vanstone, but during the night Mrs Lacount guesses Magdalen's true identity. On an outing next day Mrs Lecount tries to expose Magdalen by asking her about Miss Garth.
VI. Magdalen goes into hiding. Mrs Lecount writes to Norah and gets a reply from Mrs Garth herself. Wragge fends off Mrs Lecount's enquiries and plots with Noel Vanstone to neutralise her influence.
VII. Mrs Lecount tells Noel Vanstone about the identifying moles on Magdalen's neck. He calls to make an inspection, but Wragge disguises them. Finally, Vanstone proposes to Magdalen.
VIII. Vanstone is worried by Mrs Lecount's vague threats, and he agrees with Wragge to marry Magdalen in secret. They make a verbal agreement on her settlement, and then construct a trick to lure Mrs Lecount away to her brother in Zurich.
IX. Magdalen feels oppressed. They leave for a few days, during which time Mrs Lecount does some snooping. Wragge makes elaborate plans to deceive Mrs Lecount and to get Noel Vanstone away from Aldborough.
X.Noel Vanstone  leaves according to the plan. Mrs Lecount goes to the Bygrave house  and is confronted by Mrs Wragge, who tells her the tale of seeing Miss Garth's ghost in Lambeth. 
XI. Mrs Lecount receives a forged letter from Zurich and writes to Noel Vanstone warning him about Magdalen. Wragge confirms that she is bound for Zurich then makes plans to obtain the marriage licence from London. 
XII. Wragge and Vanstone travel to London to arrange for the marriage licence. Mrs Lecount's warning letter arrives, and Vanstone prevaricates. They all return to Aldborough. 
XIII. Magdalen has been enduring severe doubts about the marriage. She almost cancels the agreement,  She writes a long letter to  Norah then buys some Laudanum with the idea of poisoning herself, but backs out at the last minute.
XIV. Wragge warns Magdalen of the legal consequences of the (technically invalid) marriage.   The wedding takes place. Mrs Lecount reaches Zurich, where she learns she has been duped. She returns immediately to England.
Between the Scenes
George Bartram describes his search for his cousin Noel Vanstone and Mrs Lecount's arrival at St Crux. Vanstone goes into hiding, and Magdalen writes to Norah. Mrs Lecount makes legal enquiries to locate Vanstone, with vengeance in mind. It is discovered that Vanstone made a will after the marriage. Mrs Lecount reveals the illegality of the marriage to Norah and Miss Garth. She then traces Vanstone and Magdalen to Dumfries.
The Fifth Scene
I. Mrs Lecount arrives in Scotland whilst Magdalen is away in London. She reveals the truth about Magdalen's identity to Vanstone. She produces the evidence of the Alpaca dress and the bottle of 'POISON' which they assume was intended for him.
II. Mrs Lecount persuades Vanstone that his life is in danger, then bullies him into making a new will, with herself as a substantial beneficiary.
III. She then persuades him to make an elaborate arrangement with his executor which she claims will give protection by locking Magdalen out of any future access to his money. She also takes control of all the documents he signs. Later the same night, Vanstone dies.
Between the Scenes
Magdalen goes to London to see Norah, but she believes that Norah and Miss Garth have conspired against her. Lawyer Loscombe thinks that the second will cannot be contested, but he suspects the existence of a Secret Trust. Magdalen is determined to get hold of the letter of trust.
The Sixth Scene
I. Magdalen is at a low ebb, feeling that everyone is against her. She asks her servant Louisa for help.
II. Magdalen proposes applying for the job as servant to Admiral Bertram, and asks her maid Louisa to train her.
Between the Scenes
George Bertram pays court to Norah. Magdalen's plan is delayed by six weeks because of the death of the legatee in the Secret Trust.
The Seventh Scene
I. Magdalen works as a maid for Admiral Bertram in the guise of Louisa. She is shown over the house by his old retainer Mazey, who sleeps guarding his master's bedroom.
II. Mrs Lecount goes to stay in Zurich. Magdalen is unable to fathom where the Secret Trust might be kept.
III. The old Admiral and George Bertram discuss his marriage prospects. The Admiral objects to Norah because of her connection with the disgraced Magdalen. George agrees to spend a week at the home of a suitable alternative to test his resolve.
IV. Magdalen finds keys in a garden shed, but she does not find the Trust. Later she encounters the Admiral sleep-walking and gets to read part of the Trust before she is arrested by Mazey. However, he lets her escape the next morning.
Between the Scenes
Norah refuses George Bertram's offer of marriage. The Admiral becomes ill and dies, but the Trust cannot be found, so all his money and estate goes to George. Magdalen prepares to disappear completely.
The Seventh Scene
I. Robert Kirke returns from China and meets a destitute Magdalen living in poverty in London. She is dangerously ill, so he arranges for medical care.
II. Weeks of Magdalen's illness pass by. She is visited by a newly prosperous Wragge and is gradually introduced to her saviour Kirke, who becomes more and more enamoured of her.
III. Norah marries George Bertram. Magdalen worries that Kirke will be deterred when he learns of her past. Frank has meanwhile married a rich old widow on his way back from China.
IV. Norah reveals hoe she discovered the Secret Trust hidden in a bowl of ashes. It leaves half of the inheritance to Magdalen, but she tears up the letter of Trust and accepts Kirke's offer of marriage.
---
No Name – principal characters
| | |
| --- | --- |
| Andrew Vanstone | a rich busineessman and property owner |
| Mrs Vanstone | his wife (to whom he is not married) |
| Norah Vanstone | their serious elder daughter |
| Magdalen Vanstone | their spirited younger daughter |
| Mrs Harriet Garth | the family governess |
| Captain Noratio Wragge | a professional swindler |
| Matilda Wragge | his confused and child-like wife |
| Mr Clare | a philosophic neighbour |
| Francis Clare | his feckless son |
| Mr Pendril | the Vanstone lawyer in London |
| Michael Vanstone | Andrew's nasty and hostile brother |
| Noel Vanstone | Michael's son, an aesthete and miser |
| Mrs Virginie Lecount | housekeeper to Michael and Noel |
| Robert Kirke | a handsome merchant captain |
| Admiral Bartram | a Vanstone family relative |
| George Bartram | his nephew |
| Mr Mazey | the Admiral's elderly servant |
---
No Name – further reading
William M. Clarke, The Secret Life of Wilkie Collins, London: Ivan R. Dee, 1988.
Tamar Heller, Dead Secrets: Wilkie Collins and the Female Gothic, New Haven: Yale University Press, 1992.
Winifred Hughes, The Maniac in the Cellar: Sensation Novels of the 1860s, Princeton: Princeton University Press, 2014.
Sue Lonoff, Wilkie Collins and his Victorian Readers: A Study in the Rhetoric of Authorship, New York: AMS Press, 1982.
Catherine Peters, The King of Inventors: A Life of Wilkie Collins, Princeton: Princeton University Press, 2014.
Walter C. Phillips, Dickens, Reade, and Collins: Sensation Novelists, New York: Library of Congress, 1919.
Lynn Pykett, Wilkie Collins: New Casebooks, London: Palgrave-Macmillan, 1998.
Nicholas Rance, Wilkie Collins and Other Sensation Novelists: Walking the Moral Hospital, London: Palgrave-Macmillan, 1991.
© Roy Johnson 2017
---
More on Wilkie Collins
More on the novella
More on literary studies
More on short stories
---