tutorial, commentary, study resources, and web links
Nostromo (1904) is Joseph Conrad's 'big' political novel – into which he packs all of his major subjects and themes. It is set in the imaginary Latin-American country of Costaguana – and features a stolen hoard of silver, desperate acts of courage, and characters trembling on the brink of moral panic. The political background encompasses nationalist revolution and the Imperialism of foreign intervention. Silver is the pivot of the whole story – revealing the courage of some and the corruption and destruction of others. Conrad's narration is as usual complex and oblique. He begins half way through the events of the revolution, and proceeds by way of flashbacks and glimpses into the future.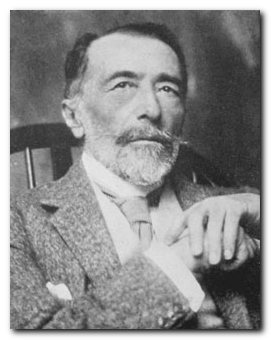 Joseph Conrad
---
Nostromo – critical commentary
Political theme
This is generally regarded by most Conrad commentators as his greatest novel. It embraces wide ranging themes of political struggle, international capitalism, the expansion of Europe and the United States into Latin America, various forms of personal heroism and sacrifice, and the dreams and obsessions which can lead people to self-destruction.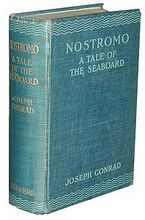 The location of the novel is Costaguana, a fictional country on the western seaboard of South America, and the focus of events is in its capital Sulaco, where a silver mine has been inherited by English-born Charles Gould but is controlled by American capitalists in San Francisco. Competing military factions plunge the country in a state of civil war, and Gould tries desperately to keep the mine working. Amidst political chaos, he dispatches a huge consignment of silver, putting it into the hands of the eponymous hero, the incorruptible Capataz de Cargadores, Nostromo.
However, things do not go according to plan. It is almost impossible to provide an account of the plot without giving away what are called in movie criticism 'plot spoilers'. But the silver does not reach its intended destination, and the remainder of the novel is concerned with both the civil conflict and the attitudes of the people who know that the silver exists, and their vainglorious attempts to acquire it.
Structure
The novel has a curious but on the whole impressive structure. The first part of the book is an extraordinarily slow-moving – almost static – account of Costaguana and the back-history of the main characters in the story. Then the central section – more than half the novel – is taken up with the dramatic events of just two or three days and nights in which rebel forces attack the town, the silver is smuggled out, and the scene is set for disaster.
This central section of the novel which covers the scenes of military insurgency and high drama conveys very convincingly the uncertainty of civil war, the powerlessness of individuals, and the force of large scale events. Bandits suddenly become generals, all normal communications are cut off, and nobody can be sure where to turn to for law and order. Amazingly, around two hundred pages of narrative cover only two or three days of action – much of it at night.
The silver of the mine
The main point of Conrad's story is that the silver of the mine corrupts almost all who come into contact with it. The inheritance and running of the mine estrange Charles Gould from his wife; once Nostromo has concealed the silver, his knowledge of its location eventually corrupts him; and the rebel leader Sotillo is driven almost made with desire to possess it. Only the saintly Emilia Gould has the strength to resist it, refusing to know where it is buried, even when the information is offered by the last person to know, on his death bed.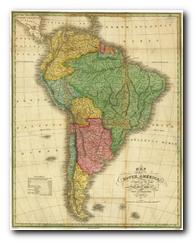 A great deal of the narrative tension in this long novel turns on who knows what about whom, and many of the key scenes are drenched in dramatic irony built on coincidences which have all the improbability of the nineteenth century novel hanging about them. At one point a completely new character suddenly appears as a stowaway on a boat, and then improbably survives a collision with another ship in the dark by hanging onto the other boat's anchor. And this is merely a plot device allowing him to transmit misleading information to his captors – and incidentally allows Conrad to indulge in a rather unpleasant bout of anti-semitism.
Narrative mode(s)
In common with many other novels from Conrad's late phase, the narrative is conveyed to us in a very complex manner. It passes from third person omniscient narrator to first person accounts of events by fictional characters. Authorial point of view and the chronology of events both change alarmingly; the narrative is sometimes taken over temporarily by a fictional character, or is recounted via an improbably long letter which we are meant to believe is being written (in pencil) in the heat of gunfire and other tumultuous events.
There's also a great deal of geographic uncertainty. As reports come in from one end of the country to the other, and the loyalty of one province and its leaders is mentioned in relation to another – as well as its strategic position on the seaboard – readers might begin to wish for a map to conceptualise events.
Once a heroic solution has been found for the plight of the beleaguered loyalists (an epic Paul Revere type ride on horseback by Nostromo) the story suddenly flashes forward to the successful years of recovery and the aftermath. Nostromo seeks to consolidate his successful position by a judicious marriage, but is distracted by his passionate love for his intended's younger sister. Even this detail is linked to the silver of the mine, and it brings about the truly tragic finale.
Despite all Conrad's stylistic peculiarities (and even some lapses in grammar) this is a magnificent novel which amply repays the undoubtedly demanding efforts required to read it. But that is true of many modern classics – from Mrs Dalloway to Ulysses and Remembrance of Things Past.
---
Nostromo – study resources

Nostromo – Oxford World's Classics – Amazon UK

Nostromo – Oxford World's Classics – Amazon US

Nostromo – Wordsworth Classics – Amazon UK

Nostromo – Wordsworth Classics – Amazon US

Nostromo – Penguin Classics – Amazon UK

Nostromo – Penguin Classics – Amazon US

Nostromo – Everyman's Library – Amazon UK

Nostromo – Everyman's Library – Amazon US

Nostromo – York Notes – Amazon UK

Nostromo – 1996 BBC adaptation on VHS – Amazon UK

Nostromo – eBook version at Project Gutenberg

The Complete Novels of Joseph Conrad – Kindle eBook editions

Conrad: Nostromo – Landmarks of World Literature – Amazon UK

The Cambridge Companion to Joseph Conrad – Amazon UK

Joseph Conrad: A Biography – Amazon UK

Nostromo – audioBook version at Project Gutenberg

The Cambridge Companion to Joseph Conrad – Amazon UK

Routledge Guide to Joseph Conrad – Amazon UK

Oxford Reader's Companion to Conrad – Amazon UK

Notes on Life and Letters – Amazon UK

Joseph Conrad – biographical notes

Joseph Conrad at Wikipedia – biographical notes, links

Joseph Conrad at Mantex – tutorials, web links, study materials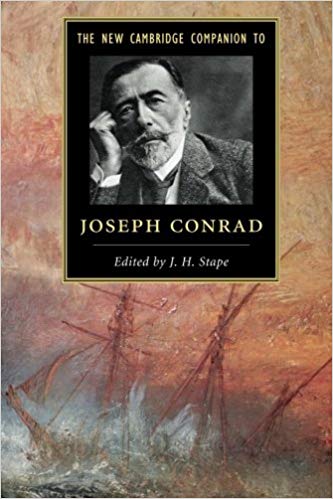 ---
Nostromo – plot summary
Charles Gould is a native Costaguanero of English descent who owns the silver-mining concession in Sulaco. He is tired of the political instability in Costaguana and its concomitant corruption, and puts his weight behind the Ribierist project, which he believes will finally bring stability to the country after years of misrule and tyranny by self-serving dictators. Instead, the silver mine and the wealth it has generated become a bone for the local warlords to fight over, plunging Costaguana into a new round of chaos. Among others, the revolutionary Montero invades Sulaco; Señor Gould, adamant that his silver should not become spoil for his enemies, entrusts it to Nostromo, the trusted 'capataz de los cargadores' (head longshoreman).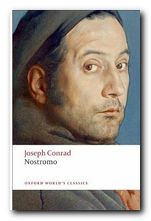 Nostromo is an Italian expatriate who has risen to that position through his daring exploits. ('Nostromo' is Italian for mate or boatswain, as well as a contraction of nostro uomo – 'our man'.) He is so named by his employer, Captain Mitchell. Nostromo's real name is Giovanni Battista Fidanza – Fidanza meaning 'trust' in archaic Italian. Nostromo is what would today be called a shameless self-publicist. He is believed by Señor Gould to be incorruptible, and for this reason is entrusted with hiding the silver from the revolutionaries. He accepts the mission not out of loyalty to Señor Gould, but rather because he sees an opportunity to increase his own fame.
A pivotal episode in the novel takes place at night, when Nostromo, together with an escaping French journalist Decoud, sets out at sea to save the silver – not realising he has a stowaway on board. His boat is in collision with a ship bringing the rebels, and he is forced to scuttle his boat and bury the silver on an island.
In the end it is Nostromo, together with a ruined cynic of a doctor and a journalist (all acting for self-serving reasons), who are able to restore some kind of order to Sulaco. It is they who are able to persuade two of the warlords to aid Sulaco's secession from Costaguana and protect it from other armies. Nostromo, the incorruptible one, is the key figure in setting the wheels in motion.
In Conrad's universe, however, almost no one is incorruptible. The exploit does not bring Nostromo the fame he had hoped for, and he feels slighted and used. Feeling that he has risked his life for nothing, he is consumed by resentment, which leads to his corruption and ultimate destruction, for he had kept secret the true fate of the silver after all others believed it lost at sea, rather than hidden on an offshore island. In recovering the silver for himself, he is shot and killed, mistaken for a trespasser, by the father of his fiancée, the keeper of the lighthouse on the island of Great Isabel.
---
Joseph Conrad – biography
---
Principal characters
| | |
| --- | --- |
| Charles Gould | Owner of the San Tome silver mine |
| Emilia Gould | His principled and attractive wife |
| Dr Monygham | An English expatriate doctor, survivor of torture |
| Martin Decoud | Radical French journalist |
| Giorgio Viola | Ex-Garibaldian inn-keeper |
| Teresa Viola | Viola's elder daughter – Nostromo's 'intended' |
| Giselle Viola | Viola's younger daughter |
| Captain Mitchell | English harbour chief |
| Colonel Sotillo | Savage insurrectionary leader |
| Pedro Montero | Costaguanan war lord |
| Antonia Avellanos | a patriot |
| Sulaco | mining town on the coast of Costaguana |
| Costaguana | Imaginary country on the western seaboard of South America |
---
Conrad's writing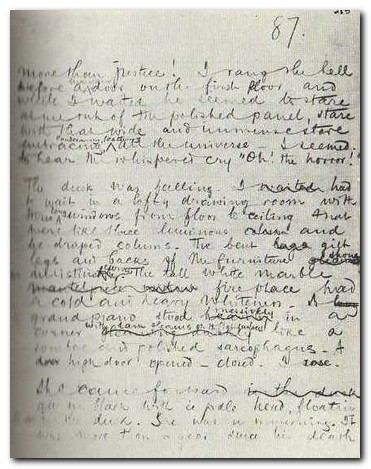 Manuscript page from Heart of Darkness
---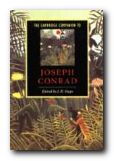 The Cambridge Companion to Joseph Conrad offers a series of essays by leading Conrad scholars aimed at both students and the general reader. There's a chronology and overview of Conrad's life, then chapters that explore significant issues in his major writings, and deal in depth with individual works. These are followed by discussions of the special nature of Conrad's narrative techniques, his complex relationships with late-Victorian imperialism and with literary Modernism, and his influence on other writers and artists. Each essay provides guidance to further reading, and a concluding chapter surveys the body of Conrad criticism.
 Buy the book at Amazon UK
Buy the book at Amazon US
---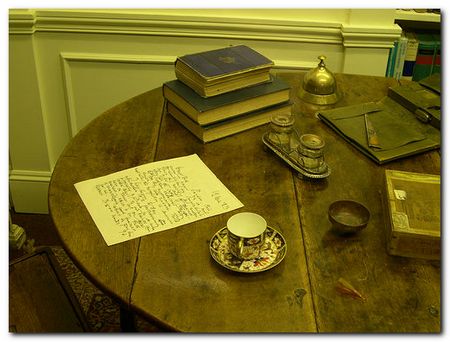 Joseph Conrad's writing table
---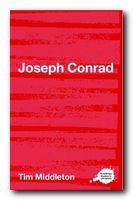 The Complete Critical Guide to Joseph Conrad is a good introduction to Conrad criticism. It includes a potted biography, an outline of the stories and novels, and pointers towards the main critical writings – from the early comments by his contemporaries to critics of the present day. Also includes a thorough bibliography which covers biography, criticism in books and articles, plus pointers towards specialist Conrad journals. These guides are very popular. Recommended.
---
Further reading

Amar Acheraiou Joseph Conrad and the Reader, London: Macmillan, 2009.

Jacques Berthoud, Joseph Conrad: The Major Phase, Cambridge: Cambridge University Press, 1978.

Muriel Bradbrook, Joseph Conrad: Poland's English Genius, Cambridge: Cambridge University Press, 1941

Harold Bloom (ed), Joseph Conrad (Bloom's Modern Critical Views, New Yoprk: Chelsea House Publishers, 2010

Hillel M. Daleski , Joseph Conrad: The Way of Dispossession, London: Faber, 1977

Daphna Erdinast-Vulcan, Joseph Conrad and the Modern Temper, Oxford: Oxford University Press, 1991.

Aaron Fogel, Coercion to Speak: Conrad's Poetics of Dialogue, Cambridge, Mass: Harvard University Press, 1985

John Dozier Gordon, Joseph Conrad: The Making of a Novelist, Cambridge, Mass: Harvard University Press, 1940

Albert J. Guerard, Conrad the Novelist, Cambridge, Mass: Harvard University Press, 1958

Robert Hampson, Joseph Conrad: Betrayal and Identity, Basingstoke: Macmillan, 1992

Jeremy Hawthorn, Joseph Conrad: Language and Fictional Self-Consciousness, London: Edward Arnold, 1979

Jeremy Hawthorn, Joseph Conrad: Narrative Technique and Ideological Commitment, London: Edward Arnold, 1990

Jeremy Hawthorn, Sexuality and the Erotic in the Fiction of Joseph Conrad, London: Continuum, 2007.

Owen Knowles, The Oxford Reader's Companion to Conrad, Oxford: Oxford University Press, 1990

Jakob Lothe, Joseph Conrad: Voice, Sequence, History, Genre, Ohio State University Press, 2008

Gustav Morf, The Polish Shades and Ghosts of Joseph Conrad, New York: Astra, 1976

Ross Murfin, Conrad Revisited: Essays for the Eighties, Tuscaloosa, Ala: University of Alabama Press, 1985

Jeffery Myers, Joseph Conrad: A Biography, Cooper Square Publishers, 2001.

Zdzislaw Najder, Joseph Conrad: A Life, Camden House, 2007.

George A. Panichas, Joseph Conrad: His Moral Vision, Mercer University Press, 2005.

John G. Peters, The Cambridge Introduction to Joseph Conrad, Cambridge: Cambridge University Press, 2006.

James Phelan, Joseph Conrad: Voice, Sequence, History, Genre, Ohio State University Press, 2008.

Edward Said, Joseph Conrad and the Fiction of Autobiography, Cambridge Mass: Harvard University Press, 1966

Allan H. Simmons, Joseph Conrad: (Critical Issues), London: Macmillan, 2006.

J.H. Stape, The Cambridge Companion to Joseph Conrad, Cambridge: Cambridge University Press, 1996

John Stape, The Several Lives of Joseph Conrad, Arrow Books, 2008.

Peter Villiers, Joseph Conrad: Master Mariner, Seafarer Books, 2006.

Ian Watt, Conrad in the Nineteenth Century, London: Chatto and Windus, 1980

Cedric Watts, Joseph Conrad: (Writers and their Work), London: Northcote House, 1994.
---
Other novels by Joseph Conrad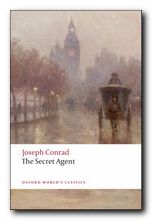 The Secret Agent (1907) is a short novel and a masterpiece of sustained irony. It is based on the real incident of a bomb attack on the Greenwich Observatory in 1888 and features a cast of wonderfully grotesque characters: Verloc the lazy double agent, Inspector Heat of Scotland Yard, and the Professor – an anarchist who wanders through the novel with bombs strapped round his waist and the detonator in his hand. The English government and police are subject to sustained criticism, and the novel bristles with some wonderfully orchestrated effects of dramatic irony – all set in the murky atmosphere of Victorian London. Here Conrad prefigures all the ambiguities which surround two-faced international relations, duplicitous State realpolitik, and terrorist outrage which still beset us more than a hundred years later.


Buy the book from Amazon UK


Buy the book from Amazon US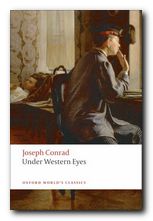 Under Western Eyes (1911) is the story of Razumov, a reluctant 'revolutionary'. He is in fact a coward who is mistaken for a radical hero and cannot escape from the existential trap into which this puts him. This is Conrad's searing critique of Russian 'revolutionaries' who put his own Polish family into exile and jeopardy. The 'Western Eyes' are those of an Englishman who reads and comments on Razumov's journal – thereby creating another chance for Conrad to recount the events from a very complex perspective. Razumov achieves partial redemption as a result of his relationship with a good woman, but the ending, with faint echoes of Dostoyevski, is tragic for all concerned.


Buy the book from Amazon UK


Buy the book from Amazon US
© Roy Johnson 2010
---
Joseph Conrad web links

Joseph Conrad at Mantex
Biography, tutorials, book reviews, study guides, videos, web links.

Joseph Conrad – his greatest novels and novellas
Brief notes introducing his major works in recommended editions.

Joseph Conrad at Project Gutenberg
A major collection of free eTexts in a variety of formats.

Joseph Conrad at Wikipedia
Biography, major works, literary career, style, politics, and further reading.

Joseph Conrad at the Internet Movie Database
Adaptations for the cinema and television – in various languages. Full details of directors and actors, production notes, box office, trivia, and quizzes.

Works by Joseph Conrad
Large online database of free HTML texts, digital scans, and eText versions of novels, stories, and occasional writings.

The Joseph Conrad Society (UK)
Conradian journal, reviews. and scholarly resources.

The Joseph Conrad Society of America
American-based – recent publications, journal, awards, conferences.

Hyper-Concordance of Conrad's works
Locate a word or phrase – in the context of the novel or story.
---
More on Joseph Conrad
Twentieth century literature
More on Joseph Conrad tales
---