academic referencing and writing style guide
This is a handy spiral-bound pocketbook which offers a compact guide to academic writing and its relation to the Internet. It presents standards for accessing, evaluating, and quoting Net sources. Most importantly, it shows you how to present digital referencing in academic writing. These are issues facing many students [and tutors] in the sudden eruption of the digital world into what was a bibliographic tradition dating back to the early Renaissance.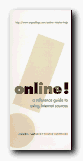 The orientation is entirely American, but it includes models for citation in four different systems: the Modern Languages Association (MLA), American Psychological Association (APA), Council of Biology Editors (CBE) and Chicago University Press styles. Any of these could be adapted by European readers. They go into all the nit-picking details of where colons and angled brackets should be placed, where to use mono-spaced fonts to indicate addresses, and how best to break long URLs across consecutive lines.
The guide also includes tips for writing and publishing on the Net, and a directory of Net sources in the major academic disciplines. There is a rather good glossary, imaginatively placed at the front of the book; it has a full index, and the contents pages are well-designed. It includes some very helpful tips by the way – such as examples of lesser-know but useful URLs, and it even includes a brief chapter on how to create your own Web site.
In a bibliographic world where locations are ever-shifting, and where files can be updated on the hour, it includes important details on the dating and updating of files for the purposes of academic accuracy, and the evaluation of sources.
There has been some discussion in mailing list groups recently which has criticized the obsession with accuracy on these issues as an arm of the academic establishment's concern with form at the expense of content. (This seems to be an issue which is more prevalent in the US than the UK it seems.) However, anybody who anticipates referencing digital sources in academic writing will find this a useful resource – and terrific value at the price.

  Buy the book at Amazon UK

  Buy the book at Amazon US
© Roy Johnson 2009
---
Andrew Harnack and Eugene Kleppinger, Online! a reference
guide to using Internet sources, New York: St Martin's Press, 1997, pp.162, ISBN: 0312150237
---
More on study skills
More on writing skills
More on online learning
---