The free alternative word-processor to Microsoft Word
OpenOffice is one of the big success stories of the Open Source Software movement – along with programs such as Linux and Apache. Open Source seeks to design software by voluntary collaboration, then makes it freely available for anyone to use . Writer is the word-processing package part of OpenOffice and, not to put too fine a point on the matter, it's a free alternative to the costly and ponderous Microsoft Word.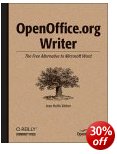 Because the software comes free of charge however, there is no printed manual, so the ever-enterprising publishers O'Reilly have produced one as part of their Community Press series. The book comes complete with a CD-ROM containing the whole of the OpenOffice.org suite which you can freely install on as many machines as you wish. The full suite of programs includes packages for spreadsheets (Calc) presentations (Impress) and drawings (Draw) as well as file conversion facilities.
Jean Hollis Weber's guide starts by showing you how to set up the interface to suit your style of working and your own personal preferences. This includes features such as page appearance, font options, multiple undo, spellchecking, custom dictionaries, and auto-correction.
Basically, Writer works in a very similar manner to Word, but it is more customisable, less intrusive, and less bossy. You don't get the impression that it's trying to take over the world, as you do with Word. And even if in the end you decide you don't like it, you haven't lost a penny, because it's free.
She covers working with templates and shows you how to apply styles. For people working on long documents there are tutorials on tables of contents, indexes, bibliographies, footnotes and endnotes, and cross referencing.
Writer and other Open Source software offers an ideal solution for people who cannot afford Microsoft prices, but who wish to undertake professional quality work. This is why it is being taken up so rapidly in poorer countries and even some hard-pressed local governments in the West. (As a result of this incidentally, Microsoft have started to do secret cut-price deals with some big customers in order to keep their share of the market.)
Since most of her potential readers are likely to be migrating from Word, she ends her tour through the program with a useful series of comparison tables. These explain the small differences in how common commands and actions are performed in Word and Writer respectively.
If you need the reassurance of a manual, plus the convenience of a whole suite of programs on one ready-to-hand CD, this is a bargain. It's sort of a version of O'Reilly's 'Missing Manual' series.
© Roy Johnson 2004

Buy the book at Amazon UK

Buy the book at Amazon US
---
Jean Hollis Weber, OpenOffice.org Writer, Sebastopol, CA: O'Reilly, 2004, pp.213, ISBN: 0596008260
---
More on writing skills
More on creative writing
More on grammar
---