advice on improving power, performance, and efficiency
This guidance manual is far more comprehensive than its title suggests. Although the main focus is Windows, it deals with optimizing all operating systems, plus offering tips on speeding up the boot process, freeing up memory, disk partitioning, and generally squeezing the best performance out of your system. David Farquhar's approach is reassuring and friendly, and he provides commonsense reasons for each of the changes he recommends.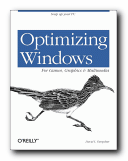 He starts with simple suggestions for freeing up disk space by deleting temporary files, obsolete programs, desktop icons, and all those fonts you never actually use. He's keen on disk defragmentation, and points out that when Windows says it's not necessary, that's because its definition of 0% or 1% are so wide. He also recommends disk partitioning, and for each improvement he explains how to use a resident Windows tools utility if there's one available, a commercial utility if it's not, or a share/freeware program for which he gives the URL.
For instance, he describes a clean-up and optimization procedure using three of the utility programs he recommends – Norton Utilities, Fix It 99, and Nuts and Bolts 98. Then the same for a couple of uninstallers.
He also covers upgrading from Win95 to Win98, though so rigorous is his search for maximizing performance that much of his advice is focussed on what not to accept during customized setup. He ends with advice on hardware upgrades – memory, hard drives, video cards, even motherboards.
You can ignore the gaming and multimedia in the title. This is for anyone who wants to make sure their computer is running as well as it should. And it's not just for optimizing and tweaking: it will teach you about the Windows operating system, as well as the underlying architecture of the PC.
© Roy Johnson 2000
---
David L. Farquhar, Optimizing Windows for Games, Graphics, and Multimedia, Sebastopol, CA: O'Reilly, 2000, pp.278 ISBN: 1565926773
---
More on technology
More on digital media
More on online learning
More on computers
---