encyclopedia covering every aspect of the world's wines
Jancis Robinson was one of the first writers to take a lot of the snobbery out of commenting on wine, and the TV series which made her famous was successful because it combined serious and wide-ranging knowledge with a lightness of touch. This modestly titled Oxford Companion to Wine (which is effectively an encyclopedia) does the same thing. It covers every conceivable aspect of growing grapes, making wine, and drinking the finished product that you can imagine.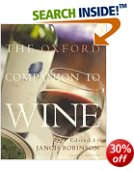 The whole of the world's wine regions are described; there are over 600 entries on wine grape varieties; she discusses the how and why of viticulture and wine-making; the history of famous vintages, and even peripheral matters such as label designs, the names of glasses and decanters, and the changes in fashion in the wine trade.
Entries run from abboccato (Italian, medium sweet) to Zweigelt (an Austrian grape variety) and you would be amazed at some of the places which produce wine. Even England gets a two-page entry. Of course France is still the home of serious viticulture, and this is reflected in the depth of information on the grand chateaux, the grape varieties, and the classifications. There's coverage of some famous vineyards whose terroir is not much more than a couple of fields.
She also deals with the politics and the commerce of the wine trade – describing phenomena such as the 'flying wine makers' from the New World areas such as Australia who have been imported back into France in regions such as the Langeudoc and helped to bring the quality of their wines back up again after recent declines.
Another attractive feature of the book is that the entries are cross-referenced – so you start from a wine, go to a grape, then a producer, on to a growing method, then to who has consumed most in recent years. Here's a typical entry describing a small area on the Cote d'Or where I used to stop off regularly on my way south:
Auxey-Duresses, a village in Burgundy producing medium-priced red and white wines not dissimilar to neighbouring VOLNAY and MEURSAULT respectively, although more austere in style. The vineyards, which include those of the hamlets of Petit Auey and Melin, are located on either side of a valley subject to cooler winds than the main Cote de BEAUNE, PINOT NOIR vineyards, including such PREMIER CRUS as Les Duresses and Le Climat de Val, are grown on the south east slope of the Montagne du Bourdon. White wines, made from CHARDONNAY, account for just above a quarter of the production, covering the slopes adjacent to Meursault. Some vines, atypically for Burgundy, are trained high.

In the past wines from Auxey-Duresses were likely to have been sold under the names of grander neighbours. Many are now labelled as Cote de Beaunes Villages, although the village appellation is becoming more popular. See COTE D'OR and BURGUNDY map.
There are appendices listing a guide to the best vintages and the appellation controlles and their permitted grape varieties, and you can marvel at the 'aroma wheel', invented in an attempt to give some sort of scientific rigour to the way tastes and aromas are described.
This new edition of Jancis Robinson's award-winning magnum opus is a major revision of her earlier work with over 500 new entries and the remainder completely revised to present the latest developments in the fast-moving and increasingly popular wine scene.
It's beautifully designed and has been completely reset in a larger, more manageable format with new illustrations. The term 'Companion' doesn't really do justice to the encyclopedic nature of this work. I was given a copy as a birthday present by friends, and have used it regularly ever since.
© Roy Johnson 2006

  Buy the book at Amazon UK

  Buy the book at Amazon US
---
Jancis Robinson, The Oxford Companion to Wine, Oxford: Oxford University Press, 3rd edition, 2006, pp.840, ISBN: 0198609906
---
More on lifestyle
More on literary studies
More on writing skills
More on creative writing
More on grammar
---