guide to popular cultural references – old and new
Allusions are a sort of cultural shorthand. If someone is 'as rich as Croesus', a comparison is being made with the sixth century BC King of Lydia, who was fabled for his wealth (and it's pronounced Kree-Sus, by the way). The problem for most of us who haven't had a classical education, is that many of these references might be lost on us. This completely new reference guide, the Oxford Dictionary of Allusions explains the meaning of allusions used in modern English – from Abaddon to Zorro.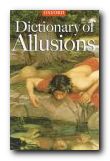 See what I mean? You probably knew about the masked crusader, but like me, you would have to look up Abaddon to discover that it is 'the angel of the bottomless pit' from the Book of Revelation in the Bible. Topics are listed thematically – dancing, danger, darkness – and all entries are cross referenced in an index. The compilers have put a lot of emphasis on contemporary relevance – so although you get Adam and Eve plus Jason and the Argonauts, there are also entries on Cinderella, James Bond, Mary Poppins, and Al Capone. As with most books of this type, one of its chief pleasures is the opportunity to browse idly and come across unexpected gems. There's everything here – from Barbara Cartland to Dido and Aeneas or from Morgan le Fay to Bridget Jones's Diary.
© Roy Johnson 2005

  Buy the book at Amazon UK

  Buy the book at Amazon US
---
The Oxford Dictionary of Allusions, Oxford: Oxford University Press, 2nd edition 2005, pp.480, ISBN: 0198609191
---
More on language
More on literary studies
More on writing skills
More on creative writing
More on grammar
---