sources of much-quoted words and phrases
Do the following catchphrases mean anything to you? Can I do you now, sir?, Shut that door!, Who loves ya, baby?, Bono Estente!, and Eat my shorts!. The more of these you know, the older you probably are. This Oxford Dictionary of Catchphrases offers explanations and the original sources of these and many other popular phrases, which in alphabetical terms range from accidento bizarro to Yada, yada, yada – coming from The Fast Show and Seinfeld respectively.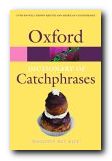 Anna Farkas uses as her sources mainly films, television and radio shows, advertising, songs, and music hall acts. She provides full details of who coined or employed each phrase, when they used it, and in what context. Some are no more than a single word stressed in a particular way – such as Miss Piggy's use of Moi? in The Muppets. This book will appeal hugely to fans of radio and television comedy on both sides of the Atlantic – because in addition to giving the source of a catchphrase, she also offers a potted explanation for its origin.
These explanations are almost as funny as the original, because they are written in a such a dead-pan style. Many of them also go on to provide fascinating details from the programmes and set an ideological context for popular culture.
Don't mention the war
Spoken repeatedly by Basil Fawlty (John Cleese) in an episode of Fawlty Towers (1975-79). Cleese as the accident-prone hotel manager challenged the bounds of acceptability in British comedy by breaking into SS-style goose-stepping before a party of German guests. Although Basil keeps telling everyone 'Whatever you do, don't mention the war', he seems unable to control himself, infuriating his guests by referring to the Second World War at every opportunity.
If you've seen any of these programmes, her flat descriptions somehow allow the humour to rise off the page again in a very satisfying way.
Amazingly rich sources are The Goon Show, Monty Python, The Fast Show, and there are a huge number of phrases and one-liners from David Letterman and Saturday Night Live.
One of the things I warmed to was the fact that she provides new summaries and explanations of sources which generate multiple catchphrases. So, if you've just read about Did she want it, sir? from The Fast Show, you get a different set of background details about the show when it comes to Does my bum look big in this?
There's also lots of interesting trivia – such as who does the voice-overs in South Park and what happened to cartoonist Robert Crumb's copyright on 'Keep on Trukin'.
I might seem something of an anorak, but I read the whole collection from beginning to end. Guaranteed to make you smile.
© Roy Johnson 2003
---
Anna Farkas, Oxford Dictionary of Catchphrases, Oxford: Oxford University Press, 2003, pp.357, ISBN: 0198607350
---
More on dictionaries
More on language
More on literary studies
More on grammar
---