modern English language in use throughout the world
English is now effectively a global lingua franca. But even as it enlarges its influence, it is assimilated and changed by the nations where it comes to rest. Tom McArthur's new Oxford Guide to World Englishis a survey of English both as a pre-eminent world language and as an increasingly divergent language. It is both a compendious work of reference and a very readable series of essays detailing the way in which the language is changing and growing as it spreads from one country to another.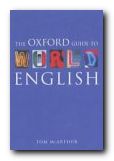 Each section is structured in a similar manner. First there is a brief historical account of the region's connection with the English language; then he offers notes and examples of peculiarities in pronunciation, grammar , and vocabulary.
These prefatory remarks are like mini-essays on language history and development. He explains how Old English became modern, how English changed when it reached America, and even how it changed as it moved westwards. He also explains the social and cultural forces which lead to the development of a language.
At the center of his five hundred pages he confronts the issues which will be of interest to the two biggest user groups – the differences between English English and American English. All the basics of ise/ize and colour/color are explained, as well as a detailed history of the expression OK. There is also coverage of the huge variety of immigrant languages which have enriched the American vocabulary.
The range of countries he covers is truly astonishing. They range from whole continents such as Australia and Africa, to tiny islands such as Tuvalu and Tristan da Cunha. He illustrates a range of dialects and languages, including UK dialects, Spanglish, Jamaican Creole, Chicano English, Maor English, and even Chinese English.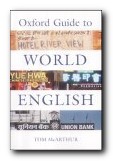 Even though it is based on sound scholarship, and comes with a very useful bibliography and chronology of English language development, the book is accessible for general readers, especially those interested in dialects and the history of world English. It will also be useful for students of A-level English Language in the UK and first-year undergraduates internationally; academics concerned with international English; and advanced foreign learners interested in developing an awareness of the differences in English around the world.
This is a wonderfully comprehensive resource which will appeal to anyone interested in language – and which OUP can justifiably feel proud to have produced.

  Buy the book at Amazon UK

  Buy the book at Amazon US
© Roy Johnson 2002
---
Tom McArthur, The Oxford Guide to World English, Oxford: Oxford University Press, 2002, pp.501, ISBN: 0198662483
---
---