interior design French capital city style
This is another of the very stylish and amazingly good value photographic studies from Taschen Books. It features fifty imaginatively conceived apartments and houses, the homes of prominent people such as Isabelle Adjani, Helena Christensen, and Christian and Francoise Lacroix. What then characterises the Parisian interior? Well, there are lots of elegant nineteenth century apartment buildings; rooms with high ceilings and tall windows reaching almost to the floor; marble staircases with wrought-iron banisters; light, pale colours; touches of art-nouveau; and polished wooden or tiled floors (rarely carpets). However, it's not all tradition.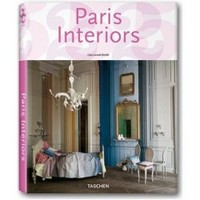 There's an apartment fashioned from an old warehouses, one with a vegetable garden on the roof, and another coaxed out of just two or three modest rooms. That's another of the many good things about these books. They go beyond mere coffee table glamour by incorporating examples which demonstrate flair on a budget.
If you want to pick up some living tips from these pages, be prepared to use rooms for different purposes than they were originally intended. Bedrooms do not always need to be above living quarters. There are even examples of people putting buildings to different uses: there's an excellent example of a stylish home on a Parisian barge, and another created from a converted attic.
Most of the owners (or occupants) whose homes are depicted tend to be fashion designers, couturiers, and visual consultants of one kind or another. In fact my favourite was an ultra minimalist art deco penthouse designed and owned by parfumier Thierry Mugler.
Two other things come through very strongly. First – lots of them offset whatever their taste and decorative arrangements with classical columns supporting a bust. No problems there: I'm a big fan of those myself. But second – many of them have rooms which are so piled up with books they look like auction rooms, ready for the bargain clearance sale. A few art books might look OK, but too many just looks very untidy – as if the owner has simply not yet tackled the issue of storage.
The other weakness here (which might simply reflect the taste of the author) is that rather a lot of the examples chosen are interesting for gimmicky reasons rather than for their good aesthetics. Rooms stuffed full of giant sized golliwogs or flea-market tat might be unusual, but they can easily make their owners look rather foolish.
But these are minor quibbles. Anyone interested in interior design will find something to stimulate their imagination here. Paris is still one of the most stylish cities in the world, and not just Capital of the Nineteenth Century as Walter Benjamin described it.
© Roy Johnson 2007
---
Lisa Lovett-Smith, Paris Interiors, London: Taschen, 2007, p.320, ISBN 3822838055
---
More on lifestyle
More on biography
More on the Bloomsbury Group
---