popular guide to revision and examination techniques
David Acres is a counsellor and a specialist in learning and stress management. He applies these skills to all stages of what's required for exam success – in any subject and at all levels, from GCSE and A Level to university level. He deals with all the common issues of time management, confidence, motivation, and study conditions, as well as the techniques you need in the exam room itself. The approach he takes encourages you to ask questions and break up tasks into smaller parts. This helps you to analyse what you need to do to complete tasks. He also recommends a pick-and-mix strategy – dipping in and out of the book and choosing those techniques which suit you best.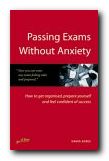 The advice he gives is sound. Make a revision timetable; check your coursework deadlines; study past papers; make notes and summaries; and get to know what examiners are looking for. He provides plenty of checklists and recommends the use of planning and time charts, diagrams, lists, and mind maps. The section on improving your memory becomes a little bit like a personal therapy session – but he does explore a wide variety of methods for exercising and improving your powers of recovering information.
The main emphasis of the book is concerned with relieving stress and anxiety – so this will appeal to those who are looking for reassurance and nerve-calming techniques. It's now in its fifth edition – which is a sure recommendation.
© Roy Johnson 2000

  Buy the book at Amazon UK

  Buy the book at Amazon US
---
David Acres, Passing Exams Without Anxiety, Oxford: How to Books, 1998, pp.182, ISBN: 1857032691
---
More on study skills
More on writing skills
More on online learning
---