interior design and furnishing with style and colour
Tricia Guild is an interior designer and the brand name behind a successful company which features a vivid array of fabrics and furnishings – all of which feature striking colours, bold pattern, and luxurious textures. To live with this style you have to be confident enough to choose wallpapers with huge floral designs, curtains which are multi-coloured and decorated with magnificent swags, and be prepared to upholster your three piece suites with fabrics which grab you by the lapels. You need to put turquoise silk next to hot red damask, and if you want to achieve some of the effects illustrated here your house needs to be spotlessly clean and full of marble.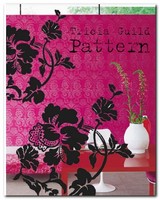 Ornate gold mirrors, and fresh-cut flowers which offset the decor in every room would be a help too. She is inspired by fabrics, techniques, motifs and designs from all over the world and from every period of history – brocades and damasks from the Far East; the rich history of botanical illustration and flower painting; checks, plaids and stripes from northern Europe; vibrant ethnic prints from India and Central America; painterly designs from Chinese and European porcelain; the bold abstracts and geometric patterns of contemporary painters.
Not that it's all entirely in-your-face colour and bold pattern. She also has some subtle and restrained examples of ticking used to create a cool, contemporary atmosphere. But those are the exception. Most of the book is filled with hot, passionate colours, and rich textures emphasised by extreme close-up photographs. There's a whole chapter on the use of flowers in fabric patterns – tulips, poppies, roses, and chrysanthemums.
I feel a bit sorry for the people who supply the text for these books. They are competing for the reader's attention against overwhelming odds. The visuals drown out everything. And yet Elspeth Thompson has some interesting things to say about the nature of pattern and she offers thoughtful analyses of the interiors illustrated in the examples shown.
Many of the pages are like Howard Hodgkin paintings. It's difficult not to be seduced by the visual texture of it all. My recipe for these interior design style books is to look at the overall effect, then choose one element on each page which you could incorporate into your own home. It could be the colour scheme, the positioning of furniture, the lighting, or (in this case) the use of patterned fabrics to breathe life into a room.
The book itself is a bibliographic reflection of this torrid style. It's printed on thick paper, with occasional translucent inserts, beautifully photographed and illustrated – and has a cover jacket that's like flock wallpaper from an Indian restaurant.
© Roy Johnson 2006

  Buy the book at Amazon UK

  Buy the book at Amazon US
---
Tricia Guild and Elspeth Thompson, Pattern, London: Quadrille, 2006, pp.208, ISBN: 1844003264
---
More on design
More on media
More on web design
---