illustrated study of influential graphic designer
Paul Rand (1914 -1996) was one of the most successful figures in corporate American graphic design. He is best known for his IBM logo, which helped to resurrect the company in the 1970s, and led to its dominant position in computer manufacture. His early success in New York was founded – quite apart from his natural talent as an illustrator – on his appreciation of European modernism. He absorbed its influences quickly and, combining them with his precocious technical skills, produced a distinctive 'American' style. His basic approach is founded on photo-montage, collage, and elements of surrealism. But it's a style which manages to look permanently modern.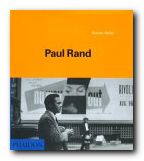 He seems to have been particularly strongly influenced – as were many others at that time – by Jan Tschichold's classic study of the relationship between politics and design in Die Neue Typografie. By the 1940s and 1950s, his combination of simple, abstracted forms contrasted with handwritten text came to be the template for many US book jacket and LP albumn designers – such as Milton Glaser and David Stone Martin. He coined the phrase 'less is more' – perhaps a summary of modernism in graphic design. He worked seven days a week, did all his own technical work, and he even designed his own house.
This beautifully illustrated biography traces his early work, which still looks fresh today; it covers the book jackets which set design pace in the 1950s and 1960s; and then the centre of the study is taken up with the development of the IBM corporate image and its famous Venetian blind logo. The conclusion is an illustrated gallery tour of his best commercial contracts – Westinghouse, United Parcels Service, ABC, and even re-designs such as Ford for which he was not actually awarded the contract.
Steven Heller, his biographer, is art director of The New York Times and the author of several influential books on graphic design. His account is even-handed on the whole, though it becomes a little whimsical in places – such as when describing Rand's illustrations for children's books written by his wife Anne. However, this book is exquisitely designed and elegantly printed from first page to last – which is why it is already a best-seller. The new paperback edition should help to bring the vivacity of Rand's work to a wider audience.
© Roy Johnson 2002

  Buy the book at Amazon UK

  Buy the book at Amazon US
---
Steven Heller, Paul Rand, London: Phaidon, 2000, pp.255, ISBN: 0714839949
---
More on design
More on media
More on web design
More on typography
---