100 Industrial-strength Tips and Tools
This is a technical guide on how to configure, customise, and upgrade your PC: how to crank up the speed at which your CPU runs; how to make your memory run a bit faster and optimise your memory usage; how to configure and partition hard disks; and how to protect yourself by making backups and safeguard your system against viruses and spyware.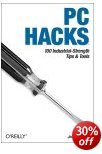 It starts off at the ground floor of the computer system with the motherboard and the basic BIOS setup program, then works its way up through memory, hard disk, and peripherals. Each of the hacks is given a rating, so you can choose if you want to tackle the suggestions at beginner's, intermediate, or expert level. Author Jim Aspinwall even lists the tools you will need for each procedure. If any of the hacks are going to be risky, he gives plenty of warning and tells you how to recover.
Actually, one of the most important tips he gives is the very first – which is that you should back up your system and your data regularly:
Backups, system restore points, software and hardware installation disks, and printouts of hard-to-remember or obscure details are very handy to keep safe but close at hand should you need them.
There are also lots of clearer-than-usual photographs showing the parts of the innards on which you'll be working. There's a whole chapter devoted to squeezing more speed out of your system. I was surprised to see that in some cases (with a Pentium II for instance) it's possible to achieve 550% increases.
It's unlikely that most people will want to start tampering with recently purchased systems, but anybody who has been using computers for more than a few years is probably in possession of more than one machine. [Come to think of it, I've got three desktops, two laptops, and two Palm Pilots – one dead.] Quite a lot of his advice has its eye on the fact that you might want to use that old 486 as a backup to your current system.
His language is fairly uncompromisingly technical. This gives you a flavour:
If you need Gigabit Ethernet (1000BaseT), you should use a motherboard that has it built in. If you install a 1000BaseT PCI card, it will likely saturate the PCI bus, leaving no bandwidth for other PCI cards. Onboard 1000BaseT uses a separate bus to talk to the CPU and memory.
Even if, like me, you're a bit shy of replacing the heat sink on a CPU or partitioning your hard drive, there's still plenty of useful information here. I learned quite a lot about memory management and file allocation systems – which is how information is arranged and stored on your hard drive. This is in addition to really useful general tips, such as his suggestion that you install the drivers for new devices before installing the hardware.
For those who are really ambitious, he shows how to run two different operating systems on the same machine. So if you want to make steps into the open source software movement (OSS) you can have a version of Linux (which is free) running alongside Windows XP.
This is yet another in the successful series of O'Reilley's Hacks titles. They are written by experts, well designed, and terrific value for money.
© Roy Johnson 2004
---
Jim Aspinwall, PC Hacks, Sebastopol CA, 2004, pp.285, ISBN 0596007485
---