100 industrial-strength tips and tools
Many people think that PDF files are a proprietary Adobe Acrobat format, but in fact they are now a standard for other applications as well. Ghostscript and Open Office are open source (that is, free) programs in which you can create and modify PDFs, and even in Microsoft Word there is an option to save your work in PDF format. It's also commonly thought that PDF files are simply for printing off onto paper – because that's what they were first designed for. This book is designed to show you all the other possible ways of working with PDFs. Sid Steward also tells you about lots of other helpful associated tools and products. These include customising PDF viewers to make reading files more comfortable; speeding up Acrobat by controlling its many plug-ins; and shrinking down huge PDFs into much smaller files.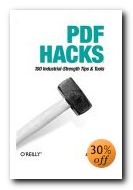 He also shows you how to create your own PDF files using a variety of different software programs; how to give your PDF files advanced navigation and interactive features; and how to integrate PDF files with existing web sites. He reveals lots of Acrobat's hidden features, and shows you how to control and even improve them – though this is not stuff for the faint-hearted. Some of the hacks he describes require quite a bit of technical expertise, but he's certainly very thorough – describing what's required for all recent program versions and across different operating systems.
PDF files now come in three flavours – which he describes as dumb (electronic paper) clever (a loose sense of the original structure), and smart (full sense of structure) – with of course an increasing file size for each degree of smartness. He strongly recommends using style sheets to keep your master document as smart as possible. Style is separated from content: then you can generate the document in different forms.
Suddenly after a lot on scripting and other technical stuff, there's information on what many people will want to use PDFs for – printing and publishing their own work. This is a gold mine of good advice, with listings of free resources thick on the page.
He even goes into the detail of how to convert PDF files for reading in Palm-type handheld devices (using a tool called Plucker); how to embed special fonts without causing file bloat; and there's quite a lot on indexing and running searches on PDF files, as well as making the results available from within an HTML page.
He ends by showing you how to add interactive forms to PDFs, how to download and use all the free software programs for doing all these tasks, and even, if you feel up to it, how to get under the bonnet to re-program the Acrobat software.
This book was something of an eye-opener for me. Like many people, I had no idea you could do so much with the PDF format. The little-known tips and tricks in this book are ideal for anyone who works with PDF on a regular basis, including web developers, pre-press users, forms creators, and those who generate PDF for distribution
© Roy Johnson 2004

Buy the book at Amazon UK

Buy the book at Amazon US
---
Sid Steward, PDF Hacks: 100 Industrial-Strength Tips & Tools, Sebastopol, CA: O'Reilly, 2004, pp.278, ISBN 0596006551
---
More on technology
More on digital media
More on online learning
More on computers
---