a history of Penguin's typography and graphic designs
If you're interested in typography, graphic design, bibliography, collecting books, or just cultural nostalgia, this book is an absolute treat. It's a beautifully illustrated history of the graphic design used for the Penguin imprint book jackets from its creation in 1935 to the present. Penguins were first sold for sixpence (2.5p) which was the price of a packet of ten cigarettes. That's cheap by today's standards when ten fags cost £2.70 but a typical Penguin costs twice that. Right from the start, Penguins were marketed via the elegance and consistency of their cover designs, with their easily recognisable orange covers and their perky logo. Its founder Allen Lane employed some of the most gifted graphic designers and typographists of the day.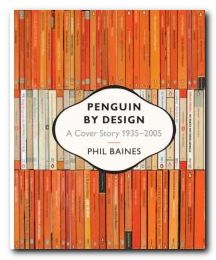 So it's no accident that Penguin was (and still is) such a successful imprint. Cover designs changed subtly to keep up with modern fashion, and even the famous penguin logo itself has changed shape, size, and even posture during its seventy year lifespan. It also morphed into the puffin for children and the pelican for the non-fiction series, the best-seller of which my father once urged on to me as a birthday present. Metals in the Service of Man was my bedtime reading as a child – which might explain a lot.
In the 1930s there were lots of polemical titles – not unlike Gollancz's Left Book Club – and there were also lots of special ventures which are well presented here – children's books during the war, American titles shortly after it, and books on art in the lead up to the Festival of Britain.
Jan Tschichold helped to bring the cover designs into the post-war world. He worked on the covers for a couple of years, but his attention to small details and his tight, conservative designs established a convention via a house style manual Penguin Composition Rules, which was a precursor to his essays in The Form of the Book.
The book is elegantly designed, set in Adobe Sabon and Monotype Gill Sans Display Bold, and laid out in what are largely double-page spreads. In addition to fiction, Penguin titles covered poetry, science, current affairs, architecture, the history of art, and even music scores – though these were dropped because they didn't make enough money. The same was true of Pevsner's famous Buildings of England, despite the fact that he waived his royalty payments.
Anyone who has been closely associated with the world of books during the last fifty years will feel that reading this book is like watching a moving picture of their own intellectual history. What's more, it is difficult to imagine anybody not being overcome with an almost overwhelming desire to start their own collection – something quite easy with second-hand copies available for pennies in charity shops and online bookstores. And if you want to see an online gallery of cover designs, have a look at the collection Joe Kral has started in his picture collection at Flickr.
Phil Baines also traces the history progression of Penguin's modern designers – Germano Facetti, Romek Marber, Alan Aldridge, and David Pelham, revealing en passant that all was not necessarily sweetness and light in the offices where design policies were made.
It is interesting to note that most of the designs look more attractive when viewed in groups – because this emphasises the unity of design, the form of the page, and the texture of patterns – such as the wallpapers and fabrics used in the poetry series.
There are some weak patches in the 1970s and 1980s, and I don't think many of the current fiction cover designs will be remembered affectionately. But the downward trend has been reversed in two recent series: the reference books with their rounded corners, and the classics, which feature black covers and centred titles. In both cases there has been a return to two key elements of the classic Penguin: the horizontal division of the cover page into three distinct bands; and the reintroduction of the plucky little penguin itself – which had almost been sent to extinction in the previous decade.
© Roy Johnson 2006

  Buy the book at Amazon UK

  Buy the book at Amazon US
---
Phil Baines, Penguin by Design , London: Penguin, 2006, pp.256, ISBN: 0713998393
---
More on typography
More on technology
More on digital media
---