his life, and a critical re-assesment of his major poetry
Philip Larkin: Life, Art and Love is the latest biographical study of arguably Britain's most popular twentieth century poet. In his Introduction, respected and prolific Larkin scholar James Booth clearly sets out his position and concerns. Philip Larkin he believes is 'by common consent, the best-loved British poet of the last hundred years'. But three decades after his death, he 'remains a controversial figure, both as a poet and a man'. Ironically, his posthumous reputation was inadvertently tarnished by his two literary executors. Anthony Thwaite's Selected Letters of Philip Larkin (1992) (properly) included his ribald and Chaucerian correspondence with like-minded friends, notably Kingsley Amis. The self-appointed literary guardians of public morality were quick to pounce, accusing him of racism, sexism, Thatcherism, misogyny and homophobia.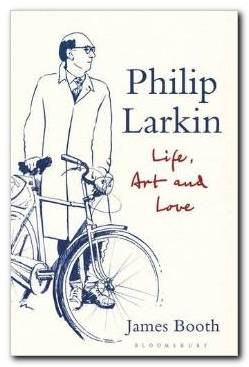 Andrew Motion's official biography, Philip Larkin: A Writer's Life (1993), despite its impressive research, was also disapproving of his alleged character traits and proclivities. More recent 'Larkin Studies' have been (to borrow a Larkinian phrase) more precious than valuable, subjecting him to arcane post-modern analysis and exegesis. But the publication of Archie Burnett's Philip Larkin: The Complete Poems (2012), with its meticulous 'Commentary' on the provenance of his verse, has done a lot to restore a Larkin-centred appreciation of his poetic oeuvre.
James Booth now convincingly and gracefully rehabilitates Larkin (whatever his real or imagined personal 'failings') as a poet of the people: 'Phrases and lines from his poems are more frequently quoted than those of any other poet of his time'. 'Sexual intercourse began/In nineteen sixty-three'; 'What are days for?'; 'They fuck you up, your mum and dad'; 'What will survive of us is love.' Booth argues that 'For the moment he seems to have had the last poetic word on love, on death, on the Great War, on parents, on ageing, on hedgehogs.'
Booth also suggests that Larkin's poems feature the most uncompromising reflections on death outside the soliloquies of Shakespeare. With a veiled reference to Larkin's sanctimonious detractors, he cautions that 'there is no requirement that a poet should be likeable or virtuous', but adds that all of his former friends and colleagues remember Larkin as a compassionate, courteous and extremely funny person, certainly not the morose 'Hermit of Hull'. He was, Booth contends persuasively, 'an ebullient provocateur with an instinct to entertain', and 'the various ideological Larkins who raise the passions of some critics, are provisional personae'. Like other human (and humane) beings, Larkin presented different faces to different people. His epistolary and hilarious 'obscenities' to Kingsley Amis, for example, were not retailed to Barbara Pym.
Booth deftly traces Larkin's early years in Coventry and his relations with his parents, Sidney and Eva. As is well known, Sidney, City Treasurer of Coventry, was a declared admirer of Hitler and the Third Reich. Booth asserts that his father's political views served only to turn his son away from embracing any coherent political ideology. In fact, his vague political sympathies veered more to the left than to the right, and many of his later poems first appeared in journals like the New Statesman.
On the other hand, Larkin père encouraged his son's early passion for jazz, and also provided the family home with a decidedly 'modern' library: Hardy, Shaw, D. H. Lawrence and Aldous Huxley. But his parents' obviously unhappy union did instil in the young Philip a life-long fear of marriage – or 'misogamy'. The lacklustre Eva, although castigated in some of Larkin's published letters, was to be the recipient of thousands of tender (and as yet unpublished) notes and letters from him for the remainder of her long life.
His years at Oxford introduced Larkin to Kingsley Amis and a circle of friends who made jazz their secular religion. Following his war-time job as a librarian in Wellington, where he met his first love, Ruth Bowman, Larkin went to the University College of Leicester and encountered the formidable and voluble Monica Jones. She was to remain his increasingly embittered partner until his death in 1985.
After a happy spell at Queen's University, Belfast, where he had a brief sexual liaison with Patsy Strang, daughter of a South-African diamond-mining magnate, Larkin moved to the University of Hull, and embarked on affairs with the shy (and devoutly Roman Catholic) Maeve Brennan, and in the 1970s a much happier one with his common-sense and attractively mature secretary, Betty Mackereth. Larkin's love life receives sensitive but also critical treatment from Booth. None of these women were his intellectual equals, but each, successively, became his poetic muse. No one (apart from Larkin himself) has written more insightfully about these complicated relationships.
However, perhaps the greatest strength of the book is Booth's analyses of Larkin's major (and minor) poems. A few examples must suffice. A Study of Reading Habits is a didactic warning against subliterary escapism. But there is an oblique subtext of self-mockery. Now, his status safely established, he ensures that one of his most quotable lines will be: 'Books are a load of crap'.
In Church Going 'The Church represents a moribund authority to which the poet sulkily refuses to defer. [But] his tone allows his pious readers to imagine that the poet himself shares their superstitious self-deception.' He argues that The Whitsun Weddings, as the train journey unfolds, 'becomes an Ode to Incipience.' And on the notorious This Be The Verse Booth comments: 'This must bid fair to be the funniest serious English poem of the twentieth century' [and] must also already rival Gray's "Elegy" in the number of parodies and pastiches it has generated.'
Larkin once said 'I like to think of myself as a funny man'. A minor criticism of Booth's book is that more space could have been given to Larkin the wit – and less, perhaps, to his early experiments with decidedly soft porn, as revealed in Trouble at Willow Gables, written under the pseudonym Brunette Coleman. Booth sees them as 'high camp comedy'. Not all readers would agree.
He is on firmer ground with such Larkinesque bons mots as: sexual intercourse is 'like asking someone else to blow your nose for you', and [to Barbara Pym] 'On Tuesday I have to address the freshers on "books" ("How to Kill, Skin & Stuff Them'). Or [to Kingsley Amis] after Larkin had declined the Poet Laureateship which was then accepted by Ted Hughes: 'The thought of being the cause of Ted's being buried in Westminster Abbey is hard to live with.' The Selected Letters, and his poems offer many other revealing and ludic examples of Larkin the 'funny man'.
Elsewhere, Booth offers nuanced interpretations of Larkin's infamous assault on 'modernism' in the arts in general and jazz in particular, evaluates his two completed and published novels [Jill and A Girl in Winter], and points out that much of his poetry reflects 'the twelve-bar blues formula' so that a reader 'plays' a Larkin poem just as one might 'play' a recording of Bessie Smith or of Louis Armstrong (his great hero).
Booth also relates Larkin's awareness of and empathy with the plight of African-Americans, and his increasing deafness – as well as his love of animals and, not least, his professional achievements as Librarian at the University of Hull. We are reminded that Larkin is probably unique among twentieth-century poets in writing in Toads in a `natural, first-hand way about work in the sense of paid employment. No other significant poet, except Wallace Stevens, held down a nine-to-five job with no expectation of becoming a `full-time' professional writer.'
Philip Larkin: Life, Art and Love is the best biography we have or are likely to have for a long time – until possibly the eventual release of hundreds, if not thousands, of his currently embargoed letters. Even these are unlikely to contradict Booth's apt conclusion: 'What will survive of him is poetry. But the thought of his literary afterlife was never any consolation to him.'
© John White 2014

Buy the book at Amazon UK


Buy the book at Amazon US
---
James Booth, Philip Larkin: Life, Art and Love. London: Bloomsbury, 2014, pp.544, ISBN: 1408851660
---
More on literature
More on the novella
More on literary studies
More on short stories
---