dictionary + grammar + culture + communication
Don't be misled by the title of this book. The Pocket Oxford Spanish Dictionary is not simply a Spanish dictionary. It's a full English-Spanish and Spanish-English dual-language dictionary, aimed at intermediate students and the everyday user. In fact it's even more than that, because the two big lexicons are surrounded by lots of other support materials. There is enough supplementary material in this book to provide a substantial insight into Spanish culture and society.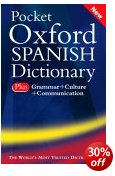 There are guides to pronunciation; a list of traditions, festivals, and holidays; an A to Z gazette of life and culture; guidance notes on writing letters; and even notes on grammar plus verb tables. These are presented in both languages in all cases. The only thing that struck me as very odd is the fact that pronunciation is given for English words, but not for Spanish. Since this book is aimed at English buyers, this ought to be the other way round, at least.
It covers over 90,000 words and phrases and 120,000 translations of contemporary Spanish and English, and the technical supplement provides full information on all the key points of Spanish and English grammar,
In addition to a new 32 page grammar supplement for this edition, there are example letters, emails, postcards, and CVs.
Language is now studied in the context of its culture, so the existing culture section has been revised and expanded to offer lively and useful information on life in the Spanish-speaking world – everything from political institutions to how weddings are celebrated.
So – the presentation of a typical entry goes as follows – for the verb perder – to lose.
perder
[E8] vt 1. (en general) to lose; perdi el pasaporte I lost my passport; quiere ~ peso he wants to lose weight; con conguntar no se pierde nada we've/you've nothing to lose by asking; ~ la vida to lose one's life, to perish; • CABEZA 1E, VISTA 3; yo no pierdo las esperanzas I'm not giving up hope; ~ la práctica to get out of practice; ~ el equilibrio to lose one's balance; ~ el conocimiento to lose consciousness, to pass out; ~ el ritmo (Mús) to lose the beat; (en trabajo) to get out of the rhythm

2. (a) (autobús/tren/avión) to miss (b) (occasión o opportunidad) to miss; sin ~ la detalle without missing any detail (c) (tiempo) to waste; no me hagas ~ (el) tiempo! don't waste my time!; no hay tiempo que ~ there's no time to lose

3. (a) (guerra/plaito/partido) to lose (b) (curso/año) to fail; (examen) (Ur) to fail

4. (agua/aciete/aire) to lose
One thing is for certain however. Unless you are wearing an oversized hunting jacket, this book will definitely not fit in your pocket. But it's an excellent dictionary and a good source of reference about everyday communication in Spanish.
© Roy Johnson 2009

  Buy the book at Amazon UK

  Buy the book at Amazon US
---
Pocket Oxford Spanish Dictionary, Oxford: Oxford University Press, 4th edition, 2009, pp.1088, ISBN: 0199560773
---
More on dictionaries
More on language
More on grammar
---