data management and information architecture
This is a study of information architecture and management – both in theory and practice. It is written with three groups of readers in mind – managers in libraries and information services; business managers and executives; and students of information science, librarianship, and information management. Elizabeth Orna starts Practical Information Policies by explaining why organizations need policies and strategies for managing information – outlining the benefits of having a policy, and the losses of not having one. She offers interesting definitions of the basic concepts she discusses, such as 'information policy', 'knowledge management', and 'information management'.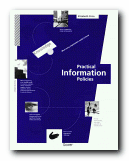 When she moves on to look at how institutions are organized, she presents a very useful checklist of questions. These can be posed to query the efficiency of management systems. For instance, 'What provision does the organization make for job handover and transfer of knowledge?' These sorts of questions will be very useful to those people serious about systems analysis, just as they will strike fear into slack managers facing a quality assurance inspection.
These considerations form the basis for the next part of her study, which deals with making an information audit, then interpreting and presenting its findings. She sees individuals as repositories of skills and knowledge, and her basic argument is that they are both the prime asset of an organization and the agents for successfully managing change. The examples she discusses are drawn from real-life instances of 'change' such as 'premises destroyed by bomb' and 'hostile takeover bid'.
The second part of the book is a series of case studies in corporate policy initiatives – including the introduction of a comprehensive IT policy at Amnesty International; the management of change at the British Library; and information strategies in the National Health Service, plus organizations as diverse as an advertising agency, the University of North London, and the Surrey Police.
Of course there are no guarantees that conducting even the most searching and intelligent audit of knowledge is going to save an organization from political or commercial doom. One of the case studies discussed here is NatWest bank, currently being swallowed up by the Royal Bank of Scotland. But as Orna finally observes, when dealing with information systems and large-scale corporate developments, 'a degree of detachment, and a sense of humour are…useful assets.'
It's worth saying that this is also a beautifully designed and elegantly produced book. It belongs in that rare category of publications which for book-lovers are interesting to contemplate, irrespective of their content. It follows the modern practice – which has its attractions – of placing short lists of suggested reading after each chapter, rather than in one long bibliography at the end of the book.
This is one for information professionals. The message of Practical Information Policies is that successful 'knowledge management' depends on knowledge in human minds, expressed in effective action, fed with appropriate information, and supported by the right blend of IT and systems. It offers readers a straightforward way of working out what their organization needs to know to survive and prosper; what information it requires to 'feed' its knowledge base; and how people need to interact in using knowledge and information effectively.
© Roy Johnson 2000

  Buy the book at Amazon UK

  Buy the book at Amazon US
---
Elizabeth Orna, Practical Information Policies, Hampshire: Gower, second edition, 1999, pp.375, ISBN: 0566076934
---
More on information design
More on design
More on media
More on web design
---