practical guidance on the visual presentation of data
Have you ever seen a document containing numbers, tables, and charts – and been unable to understand the information being displayed. Of course you have; and the fault is not yours. The data has simply not been presented effectively. This book deals with the data presentation skills required to show numbers, tables, and graphs in documents and presentations. Many people assemble their data honestly enough when writing reports and giving presentations, but they often do so without thinking how incomprehensible it might be to the audience.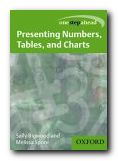 Oxford University Press have just brought out a series of beginner's manuals on communication skills. The emphasis is on no-nonsense advice directly related to everyday life. The authors show you how to present numerical data to make its outcomes more self-evident and more easily digestible. This is done by putting figures into a logical order, adding focus to the data, and using layout to guide the reader's eye towards what is significant.
They cover how to design tables. It's amazing how much clearer these can be made by removing unnecessary grid lines, aligning numbers and column headings, creating clear titles and headings, and removing any 'chart junk'.
Graphs should be uncluttered, simple, non-misleading in terms of scale and numbers, and used to illustrate a clear message.
They show how to construct graphs and bar charts so that they immediately reveal the significance of the data they contain. There are also examples of when to use pie charts, scattergrams, and pictographs (small icons)
There's also useful writing skills advice on how to integrate numbers and statistics into the text of documents. For instance, don't start sentences with figures or digits, and how to mix the use of words and digits to clarify meaning, as in nine 6-inch rulers and three 5-a-side football matches.
Most presentation of data is these days done using office software packages, so it's good that they give this a mention, with tips for creating good handouts.
They finish with a case study which tracks the raw data of some school exam results from gathering to final presentation. The grades and numbers can be presented in different ways, and the head teacher must choose the best way for a meeting with the governors.
The chapters of this book are short, but almost every page is rich in hints and tips. The strength of this approach is that it avoids the encyclopedic volume of advice which in some manuals can be quite frightening. This is a book which will reassure those who need it.
The all-time star in this field is Edward Tufte, on whose work they draw substantially. I was glad to see him listed in the bibliography. This is a cheap and cheerful version of the same layout principles he promotes in his beautifully designed books.
© Roy Johnson 2003

  Buy the book at Amazon UK

  Buy the book at Amazon US
---
Sally Bigwood and Melissa Spore, Presenting Numbers, Tables, and Charts, Oxford: Oxford University Press, 2003, pp.144, ISBN: 0198607229
---
More on information design
More on design
More on media
More on web design
---