tutorial, characters, criticism, video, resources
Pride and Prejudice (1813) has the famous opening line "It is a fact universally recognised that a man with a fortune must be in search a wife." It's a story of the empty-headed and garrulous Mrs Bennet, who has but one aim in life – to find a good match for each of her daughters. Her husband is a mild-mannered and indolent man, much given to making witty cynicisms, and he refuses to take this vulgar prospect seriously.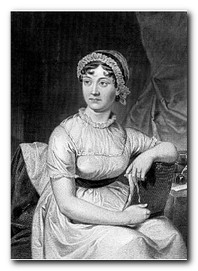 Jane Austen
The pride of the title belongs to its hero Mr Darcy, and the prejudice to heroine Elizabeth Bennet, who has lessons to learn from life. This was Jane Austen's first major success as a novelist – though not the first of her books to be written. It's a perfect place for readers to start – witty, sophisticated writing, and some well-observed character sketches. It seems as fresh today as ever.
---
Pride and Prejudice – plot summary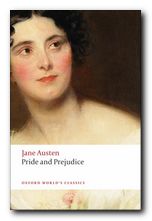 Mr. Bingley, a wealthy young gentleman, rents a country estate near the Bennets called Netherfield. He arrives in town accompanied by his fashionable sisters and his good friend, Mr. Darcy. While Bingley is well-received in the community, Darcy begins his acquaintance with smug condescension and proud distaste for all the 'country' people. Bingley and Jane Bennet begin to grow close despite Mrs. Bennet's embarrassing interference and the opposition of Bingley's sisters, who consider Jane socially inferior. Elizabeth is stung by Darcy's haughty rejection of her at a local dance and decides to match his coldness with her own wit.
At the same time Elizabeth begins a friendship with Mr. Wickham, a militia officer who relates a prior acquaintance with Darcy. Wickham tells her that he has been seriously mistreated by Darcy. Elizabeth immediately seizes upon this information as another reason to hate Darcy. Ironically, but unbeknownst to her, Darcy finds himself gradually drawn to Elizabeth.
Just as Bingley appears to be on the point of proposing marriage he quits Netherfield, leaving Jane confused and upset. Elizabeth is convinced that Bingley's sisters have conspired with Darcy to separate Jane and Bingley.
Before Bingley leaves, Mr. Collins, the male relative who is to inherit Longbourn, makes a sudden appearance and stays with the Bennets. He is a recently ordained clergyman employed by the wealthy and patronizing Lady Catherine de Bourgh. Though he was partially entreated to visit by his patroness, Collins has another reason for visiting: he wishes to find a wife from among the Bennet sisters.
Mr. Bennet and Elizabeth are amused by his self-important and pedantic behaviour. He immediately enters pursuit of Jane; however, when Mrs. Bennet mentions her preoccupation with Mr. Bingley, he turns to Elizabeth. He soon proposes marriage to Elizabeth, who refuses him, much to her mother's distress. Collins quickly recovers and proposes to Elizabeth's close friend, Charlotte Lucas, who immediately accepts him. Once the marriage is arranged, Charlotte asks Elizabeth to come for an extended visit.
In the spring, Elizabeth joins Charlotte and her cousin at his parish in Kent. The parish is adjacent to Rosings Park, the grand manor of Mr. Darcy's aunt, Lady Catherine de Bourgh, where Elizabeth is frequently invited. While calling on Lady Catherine, Mr. Darcy encounters Elizabeth. She discovers from a cousin of Darcy that it was he who separated Bingley and Jane. Soon after, Darcy admits his love of Elizabeth and proposes to her. Insulted by his high-handed and insulting manner of proposing, Elizabeth refuses him. When he asks why she should refuse him, she confronts him with his sabotage of Bingley's relationship with Jane and Wickham's account of their dealings.
Deeply shaken by Elizabeth's vehemence and accusations, Darcy writes her a letter justifying his actions. The letter reveals that Wickham soon dissipated his legacy-settlment (from Darcy's father's estate), then came back to Darcy requesting permanent patronage; he became angry when rejected, accusing Darcy of cheating him. To exact revenge and to make off with part of the Darcy family fortune, he attempted to seduce Darcy's young sister Georgiana – to gain her hand and fortune, almost persuading her to elope with him – before he was found out and stopped. Darcy justifies his actions from having observed that Jane did not show any reciprocal interest in his friend; thus his aim in separating them was mainly to protect Bingley from heartache.
After reading the letter, Elizabeth begins to question both her family's behaviour and Wickham's credibility; she concludes that Wickham is not as trustworthy as his easy manners would indicate, and that her early impressions of Darcy may not have been accurate. Soon after receiving the letter Elizabeth returns home.
Some months later, during a tour of Derbyshire with her aunt and uncle, Elizabeth visits Pemberley, Darcy's estate. Unexpectedly, Darcy arrives at Pemberly as they tour its grounds. He makes an effort to be gracious and welcoming to them, thus strengthening Elizabeth's newly favourable impression of him. Darcy then introduces Elizabeth to his sister Georgiana. He treats her uncle and aunt very well, and finds them of a more sound character than her other relatives, whom he previously dismissed as socially inferior.
Elizabeth and Darcy's renewed acquaintance is cut short when news arrives that Elizabeth's younger sister Lydia has run away with Wickham. Initially, the Bennets believes that Wickham and Lydia have eloped, but soon it is surmised that Wickham has no plans to marry Lydia. Lydia's antics threaten the family's reputation and the Bennet sisters with social ruin. Elizabeth and her aunt and uncle hurriedly leave Derbyshire, and Elizabeth is convinced that Darcy will avoid her from now on.
Soon, thanks to the intervention of Elizabeth's uncle, Lydia and Wickham are found and married. After the marriage, Wickham and Lydia make a visit to Longbourne. While bragging to Elizabeth, Lydia comments that Darcy was present at the wedding. Surprised, Elizabeth sends an inquiry to her aunt, from whom she discovers that Darcy was responsible for both finding the couple and arranging their marriage at great expense to himself.
Soon after, Bingley and Darcy return to the area. Bingley proposes marriage to Jane, and this news starts rumours that Darcy will propose to Elizabeth. Lady Catherine travels to Longbourn with the sole aim of confronting Elizabeth and demanding that she never accept such a proposal. Elizabeth refuses to bow to Lady Catherine's demands. When news of this obstinacy reaches Darcy, it convinces him that her opinion of him has changed. When he visits, he once again proposes marriage. Elizabeth accepts, and the two become engaged.
Elizabeth and Darcy settle at Pemberley where Mr. Bennet visits often. Mrs. Bennet remains frivolous and silly, and often visits the new Mrs. Bingley and talking of the new Mrs. Darcy. Later, Jane and Bingley move from Netherfield to avoid Jane's mother and Meryton relations and to locate near the Darcys in Derbyshire. Elizabeth and Jane manage to teach Kitty greater social grace, and Mary learns to accept the difference between herself and her sisters' beauty and mixes more with the outside world. Lydia and Wickham continue to move often, leaving their debts for Jane and Elizabeth to pay off. At Pemberley, Elizabeth and Georgiana grow close, though Georgiana is surprised by Elizabeth's playful treatment of Darcy. Lady Catherine stays very angry with her nephew's marriage but over time the relationship between the two is repaired and she eventually decides to visit them. Elizabeth and Darcy also remain close with her uncle and aunt.
---
Study resources

Pride and Prejudice – Oxford Classics – Amazon UK

Pride and Prejudice – Oxford Classics – Amazon US

Pride and Prejudice – Norton Critical Editions – Amazon UK

Pride and Prejudice – Norton Critical Editions – Amazon US

Jane Austen Complete Works – 6-book Boxed Set – Amazon UK

Pride and Prejudice – Audio book – Amazon UK

Pride and Prejudice – 1995 BBC TV drama on DVD – Amazon UK

Pride and Prejudice – Brodie's Notes – AMazon UK

Pride and Prejudice – York Notes (Advanced) – AMazon UK

Pride and Prejudice – York Notes (GCSE) – Amazon UK

Pride and Prejudice – Cliffs Notes – Amazon UK

Pride and Prejudice – eBook at Project Gutenberg – [FREE]

Pride and Prejudice – audioBook at LibriVox – [FREE]

Pride and Prejudice – Routledge Guide

Oxford Illustrated Jane Austen – 6-book boxed set

Jane Austen: Selected Letters – Amazon UK

The Cambridge Companion to Jane Austen – Amazon UK

The Complete Critical Guide to Jane Austen – Amazon UK

Jane Austen: A Biography

Jane Austen at Wikipedia – biographical notes, links

Jane Austen at Mantex – tutorials, web links, study materials
---
Principal characters
| | |
| --- | --- |
| Mr Bennet | Head of family, with wife and daughters, much given to sardonic criticism |
| Mrs Bennet | His frivolous and excitable wife, socially ambitious for her daughters |
| Jane Bennet | The eldest daughter – 22 years old – who is considered a local beauty |
| Elizabeth Bennet | Second eldest daughter – 20 years old – intelligent, attractive, and witty |
| Mary Bennet | The plain Bennet daughter – bookish and unsociable |
| Catherine (Kitty) Bennet | The Fourth Bennet daughter – 17 years old |
| Lydia Bennet | The youngest Bennet daughter – 15 years old – frivolous, flirtatious, and headstrong |
| Charles Bingley | Gentleman without an estate – 22 years old – friend of Darcy |
| Caroline Bingley | Bingley's proud and snobbish sister |
| Fitzwilliam Darcy | Wealthy estate owner – 28 years old – friend of Bingley |
| George Wickham | Officer in the militia and old acquaintance of Darcy |
| William Collins | Clergyman cousin to Mr Bennett – and heir to his estate |
| Lady Catherine de Bourgh | Wealthy, haughty, domineering, and condescending |
| Mr Gardiner | Mrs Bennett's brother, and a friend to the family |
---
Pride and Prejudice – film version
2005 adaptation, with Donald Sutherland and Keira Knightly
---
Genesis of the text
The novel was originally titled First Impressions by Jane Austen, and was written between October 1796 and August 1797. It was submitted for publication to a London bookseller by her father, but rejected.
Austen revised the text between 1811 and 1812, re-naming it Pride and Prejudice, and sold the manuscript outright for 110. It was published in three volumes in January 1813, priced at 18s. Two further editions were published in the next four years.
The scholarly edition produced by R.W.Chapman in 1923 has become the standard edition on which many modern editions of the novel are based.
---
Jane Austen's writing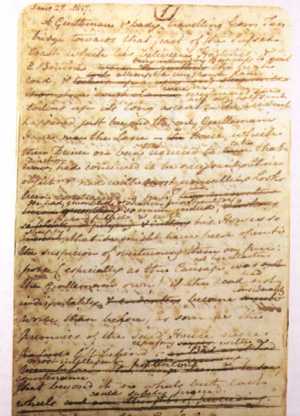 the manuscript of Sanditon
---
Selected criticism

F.W. Bradbrook, Jane Austen and her Predecessors, Cambridge: Cambridge University Press, 1966.

Julia Prewitt Brown, Jane Austen's Novels: Social Change and Literary Form, Cambridge (Mass), 1979.

Marilyn Butler, Jane Austen and the War of Ideas, Oxford: Oxford University Press, 1975, revised 1987.

W.A. Craick, Jane Austen: the Six Novels, London: Methuen, 1965.

D.D. Devlin, Jane Austen and Education, London, 1975.

Alistair M. Duckworth, The Improvement of the Estate: A Study of Jane Austen's Novels, Baltimore (Md) and London, 1971.

Sandra M. Gilbert and Susan Gubar, The Madwoman in the Attic: The Woman Writer and the Nineteenth-century Literary Imagination, New Haven and London, 1979.

John Halperin (ed), Jane Austen Bicentenary Essays, Cambridge: Cambridge University Press, 1975.

Barbara Hardy, A Reading of Jane Austen, London, 1975.

Joycelyn Harris, Jane Austen's Art of Memory, Cambridge, 1989.

Claudia L. Johnson, Jane Austen: Women, Politics, and the Novel, Chicago and London, 1988.

Margaret Kirkham, Jane Austen: Feminism and Fiction, Brighton and Totawa (NJ) 1983.

Mary Lascelles, Jane Austen and her Art, Oxford: Oxford University Press, 1963.

A. Walton Litz, Jane Austen: a Study of her Artistic Development, Oxford: Oxford University Press, 1965.

Juliet McMaster (ed), Jane Austen's Achievement, London: Macmillan, 1976.

David Monaghan, Jane Austen in a Social Context, Totawa (NJ) 1981.

Laura G. Mooneyham, Citical Essays on Jane Austen, Twayne Publishers, 1998.

Susan Morgan, In the Meantime: Character and Perception in Jane Austen's Fiction, Chicago, 1980.

Norman Page, The Language of Jane Austen, London: Blackwell, 1972.

K.C. Phillips, Jane Austen's English, London: Andre Deutsch, 1970.

Adrian Poole, The Cambridge Companion to Jane Austen , London: Macmillan, 1976.

Warren Roberts, Jane Austen and the French Revolution, New York, 1979.

B.C. Southam, Jane Austen's Literary Manuscripts: A Study of the Novelist's Development through the Surviving Papers, London and New York, 1964.

B.C. Southam (ed), Critical Essays on Jane Austen, London: Routledge and Kegan Paul, 1969.

B.C. Southam (ed), Jane Austen: the Critical Heritage, 2 vols, London: Routledge and Keegan Paul, 1968-87.

Alison G. Sulloway, Jane Austen and the Province of Womanhood, Philadelphia, 1989.

Tony Tanner, Jane Austen, London: Macmillan, 1986.

Ian Watt (ed), Jane Austen: a Collection of Critical Essays, Englewood Cliffs (NJ): Prentice-Hall, 1963.
---
Pride and Prejudice – film version
1940 version, with Greer Garson and Laurence Olivier
---
Other novels by Jane Austen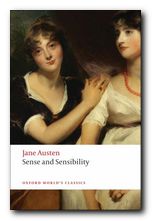 Sense and Sensibility (1811) casts two young and marriageable sisters Elinor and Marianne Dashwood as representatives of 'sense' and 'sensibility' respectively. Elinor bears her social disappointments with dignity and restraint – and thereby gets her man. Marianne on the other hand is excitable and impetuous, following her lover to London – where she quickly becomes disillusioned with him. Recovering and gaining more 'sense', she then finally sees the good qualities in her old friend Colonel Brandon, who has been waiting in the wings and is now conveniently on hand to propose marriage.


Buy the book at Amazon UK


Buy the book at Amazon US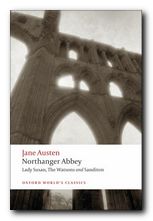 Northanger Abbey (1818) opens in the drawing rooms of Bath. The heroine is imaginative Catherine Morland who falls in love with Henry Tilney, a young clergyman. When he invites her to meet his family at the Abbey however, she sees nothing but Gothic melodrama at every turn – since they were very fashionable at the time. Her visions of medieval horror prove groundless of course. This is Jane Austen's satirical critique of Romantic cliché and excess. But Catherine eventually learns to see the world in a realistic light – and gets her man in the end. This volume also contains the early short novels Lady Susan and The Watsons, as well as the unfinished Sanditon.


Buy the book at Amazon UK


Buy the book at Amazon US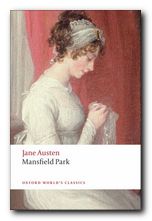 Mansfield Park (1814) is more serious after the comedy of the earlier novels. Heroine Fanny Price is adopted into the family of her rich relatives. She is long-suffering and passive to a point which makes her almost unappealing – but her refusal to tolerate any drop in moral standards eventually teaches lessons to all concerned. (All that is except standout character Mrs Norris who is a sponging and interfering Aunt you will never forget.) The hero Edmund is dazzled by sexually attractive Mary Crawford – but in the nick of time sees the error of his ways and marries Fanny instead. Slow moving, but full of moral subtleties.


Buy the book at Amazon UK


Buy the book at Amazon US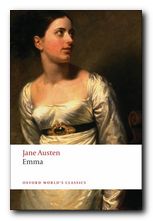 Emma (1816) Charming and wilful Emma Woodhouse amuses herself by dabbling in other people's affairs, planning their lives the way she sees fit. Most of her match-making plots go badly awry, and moral confusion reigns until she abandons her self-delusion and wakes up to the fact that stern but honourable Mr Knightly is the right man for her after all. As usual, money and social class underpin everything. Some wonderful comic scenes, and a rakish character Frank Churchill who finally reveals his flaws by making the journey to London just to get his hair cut.

Buy the book at Amazon UK


Buy the book at Amazon US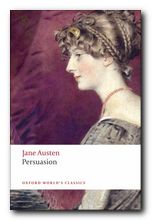 Persuasion (1818) is the most mature of her novels, if one of the least exciting. Heroine Anne Elliott has been engaged to Captain Wentworth, but has broken off the engagement in deference to family and friends. Meeting him again eight years later, she goes against conventional wisdom and accepts his second proposal of marriage. Anne is a sensitive and thoughtful character, quite unlike some of the earlier heroines. Jane Austen wrote of her "She is almost too good for me". There is a shift of location to Lyme Regis for this novel, which reveals for the first time a heroine acting from a deep sense of personal conviction, against the grain of conventional wisdom.


Buy the book at Amazon UK


Buy the book at Amazon US
© Roy Johnson 2010
---
More on literature
More on the novella
More on literary studies
More on short stories
---