a selection of resources
What if your ambitions are for publishing on the Internet? After all, many writers now launch their work in writers forums, creative writing groups, and even in personal weblogs. The Internet has made it possible to reach a worldwide audience with just a few IT skills – and it's all for free!
You have the chance to place your work in writers' groups, you might create your own web site, or you could start blogging. In addition, you could promote your work via a personal website and an email newsletter. Whichever route you choose, you should be aware of the difference between writing for the screen and the printed page.
What follows is guidance and resources covering all these new possibilities. You need to know what is available for writers on the Internet, and where to find it. eBooks and email publishing are a very attractive and cost-effective option you can learn about easily. Blogging is cost-free and currently very hip. And knowing the difference between writing for the screen or for print will show that you know what you are doing.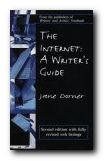 The Internet: A Writer's Guide
The main strength of Jane Dorner's book is that she is a professional writer who practices what she writes about. She writes for both print and screen, and promotes her work via a personal web site. This book explores both the new opportunities for writers created by the Internet and the practicalities of publishing on your own site.
She touches on writing groups which exist in the form of mailing lists, websites, newsletters, chat groups, and conferences, and she also deals with eBooks plus annotated lists of all the sources a writer could possibly wish for – from libraries to bookshops, dictionaries to writing circles, newspapers to writing style guides, electronic publishers to free Internet service providers.
Buy the book from Amazon UK
Buy the book from Amazon US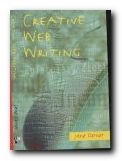 Creative Web Writing
If you are mainly interested in traditional creative writing Jane Dorner has another book which shows you the skills you need if you want to put your writing onto the Internet. She is speaking to those people who have been creating poems and stories in their back rooms and getting nowhere. This guide covers collaborative story-telling, research online, interactivity and flexible text, as well as the nuts and bolts of styling for screen reading. Most importantly, she explains the range of new markets, new technologies, and how to apply them.
Creative genres are covered, including autobiography, poetry, broadcasting, screen-writing and writing for children. She also describes how to look carefully at contracts, how to submit your writing to an electronic publisher, and how to deal with Print on demand (POD) outlets. There's a very useful survey of the various delivery methods and payments for eBooks. This is one of the most popular methods for aspiring authors to reach new readers. This section will be required reading if you are thinking of venturing into this world.
The central part of the book deals with new forms of writing using Web technologies. This is one field in which she has clearly done her homework. She shows examples of writing in the form of Blogs (Web-logs) email (epistolary) narratives, fictions illuminated by graphics, the weird world of MUDs and MOOs, Flash-animated writing, and phonetic poetry.
Buy the book from Amazon UK
Buy the book from Amazon US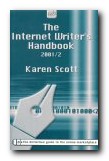 The Internet Writer's Handbook
Karen Scott's book is a detailed guide to publishers of the two formats which are most digital – e-zines and e-books. It's in the form of an international A-Z of the best websites for writers to target, with full contact details for all websites listed. She offers plenty of detail on how to submit your work , how much publishers will pay, and even how they are most likely to respond. The topics these eBook publishers cover range from poetry and fiction, through non-fiction feature writing, to specialist technical and hobbyist publications.
Buy the book from Amazon UK
Buy the book from Amazon US

Publish your writing
© Roy Johnson 2009
---
More on journalism
More on creative writing
More on writing skills
More on publishing
---