beginner's guide to the basic principles of punctuation
Oxford University Press have just brought out a series of short beginners' manuals on communication skills. Their emphasis is on compact, no-nonsense advice directly related to issues of everyday life. Punctuation in English can be almost as tricky as spelling. Robert Allen cleverly approaches the topic by explaining what punctuation is for, and how it can help you to write more effectively.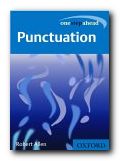 He recognises that choices are not always clear cut. Does a pause in a sentence warrant a comma, a semi-colon, or maybe even a dash? And his explanations of the answers are illustrated throughout by everyday, practical examples. Beginners in particular will find his explanations very reassuring. He describes the basics of constructing statements and how they are best expressed using the basic elements of punctuation – from the comma to the full stop. Next comes the more complex issues of representing speech and using such punctuation marks as the colon and the semicolon. Don't worry – everybody has problems with that one!
In fact there's a useful section on how to avoid the most common mistakes in punctuation – such as using too many commas, or using the comma as a substitute for the full stop.
The second part of the book is a simple checklist of each common mark of punctuation – showing how each is used. And he ends with comments on the most popular problems – including what he calls 'the grocer's apostrophe'.
This is easy to read and understand. It's a book which will be suitable for anyone unsure about what is ultimately a matter of taste and style.
© Roy Johnson 2002

  Buy the book at Amazon UK

  Buy the book at Amazon US
---
Robert Allen, Punctuation, Oxford: Oxford University Press, 2002, pp.104, ISBN: 0198604394
---
More on writing skills
More on language
More on grammar
---