new media – theoretical and practical studies
Jay Bolter is the author of Writing Space, one of the most important books on hypertext of the early 1990s. Here he continues with co-author Richard Grusin his theoretical and practical consideration of digitisation into the realm of 'new media': that is, computer graphics, streamed video, and virtual reality. He begins by looking at the ways in which various media – from Renaissance paintings to modern 3D digital images – have tried to render convincing images of the real world.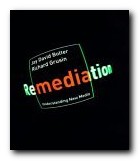 The first part of the book discusses the interesting distinctions to be made between immediacy and hypermediacy. Their definition of remediation is 'the representation of one medium in another' and they argue that this is 'a defining characteristic of the new digital media'.
Their premise is that all new media take over and re-use existing media. Thus the Web grabs aspects of television and printed books. A good Web homepage presents all its most important information visible 'above the fold', in the same way as newspapers are designed.
This doesn't prevent some of the 'old' media fighting back. So, for instance, television news programs begin to show separate 'windows' on screen – in a clear imitation of the multitasking environment of the computer monitor to which we are now all accustomed.
There's some heavy-duty language to get through in this section – but the tone lightens in the second part of the book. This deals with studies of a dozen contemporary forms of digital media – computer games, virtual reality, digital art and photography, television, and the Web.
This includes an extended analysis of the game Myst, which is seen in terms of a remediation and critique of film. They chase the differences between photo-realistic painting and digital art all around the houses. It also includes an interesting analysis of Hitchcock's Vertigo, of Disney theme parks, and of web cam sites.
The analysis does include some dubious assumptions – such as the idea that the difference between film and TV is that we watch films in public and television in private. The truth is that not many people go to the cinema any more, and lots of people watch television films with friends.
The last part of the book returns to a theoretical consideration of the effect of all this on the individual. We are taken into issues such as 'gender problems in MUDs' and what it is like in VR experience to be a molecule or virtual gorilla.
It might be hard work to read, but it's stimulating stuff. There may be further theoretical questions posed on many of these issues – but anybody interested in the uses of new media will not wish to miss what Bolter and Grusin have to say about them.
© Roy Johnson 2000

  Buy the book at Amazon UK

  Buy the book at Amazon US
---
Jay David Bolter and Richard Grusin, Remediation: Understanding New Media, Cambridge (MA): MIT Press, 2000, pp.295, ISBN: 0262522799
---
More on digital media
More on technology
More on theory
---