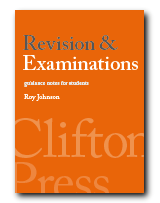 Revision and Examinations – skills for success! This shows you how to prepare for exams, and how to pass them successfully. It will help you to improve your self-confidence and overcome any nerves and anxiety, and it shows you how to guarantee your best performance in the exam. Revision and Examinations includes specimen exam papers, and hints from tutors on improving your grades. These guidance notes are suitable for students at all levels in further and higher education. They answer all the most frequently asked questions on successful revision and exam techniques. You can add your own notes and live hyperlinks to personalise your eBook and make it even more interactive.
New design – stylish typography and layout – great value
Sample pages Exam nerves — Analysing papers — Revision techniques
[eshop_addtocart]
---
FULL CONTENTS
| | |
| --- | --- |
| Why have exams? | Arguments for and against examinations – what you need to know to survive. |
| Coursework | How to learn from your term work – before, during, and after the course. |
| Taking notes | Efficient note-taking – tips and tricks. An example of good notes. |
| Revision techniques | The secrets of good planning. Create good conditions. Use the right materials |
| Choosing topics | How to select and prioritise the topics you need to revise. |
| Mock exams | How to arrange personal mini-tests to reduce the threat of real exams |
| Overcoming nerves | Understanding nervousness, and turning a negative into a positive force. |
| Exam myths | Horror stories de-bunked, and reasons you should feel optimistic. |
| Stress management | Techniques for reducing stress and building calm plus confidence. |
| Analysing papers | How to understand the structure of exam papers and their instructions |
| Analysing questions | How to understand questions – and what's needed to answer them. |
| Instruction terms | How to understand the most commonly used instruction terms |
| Specimen papers | Examples of some real exam papers and their tasks and questions analysed. |
| Types of exam | Short-question exams, take-home papers, multiple-choice questions, open book exams, oral exams |
| Questions | How to understand the difference between key terms and instruction terms. |
| Problems | How to avoid the most common problems when answering exam questions. |
| The examination | Tips on what to do before, during, and after the exam. How to maximise your chances. |
| Your best answer | How to maximise the relevance and accuracy of your answers. Make every point count. |
| Time management | How to divide your time strategically between separate questions. |
| Solving problems | How to deal with possible emergencies and changes of mind during the exam. |
| Results | How to understand grading systems, results, and possible appeals |
| Further reading | A selection of exam and revision study guides – with web links to Amazon |
[eshop_addtocart]
---
Author
Dr Roy Johnson is the author of best-selling writing and study guides – Studying Fiction, Making the Grade, Improve your Writing Skills, Writing Essays 3.0, and several others. He was originally an industrial designer, then went on to lecture on literary studies at Manchester University and the Open University. He publishes a monthly newsletter on writing, culture, and technology, and is the director of Mantex Information Design.
---
Details
Price – £1.95 – 94 pages – PDF format – 1993-2011 – ISBN 095198442X

Questions and Answers on our products
---
---


You can make this purchase via PayPal – using either a PayPal account or a credit card. It's quicker using PayPal – but you can also use your credit card details in the normal way. Both types of transaction are completely secure.
---