hilarious dictionary of slang, smut, indecency, and filth
Do you know the difference between an air biscuit and a trouser cough, or the relationship between a pearl necklace and mammary dandruff? Do you know what an art pamphlet and a bongo periodical have in common? Welcome to the world of Viz, linguistic invention, and ribald scatology. Roger's Profanisaurus is what I would call an 'advanced' and deliberately rude dictionary of slang.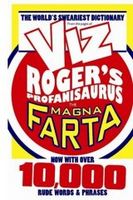 The entries are compiled from contributions to the monthly comic magazine. It assumes as a starting point the lowest and most wide-ranging street language for sexual matters, body functions, and gender preference. And it is blisteringly funny, mainly because each expression is defined by the use of further slang terms which are provocatively allusive, offered in a cod serious tone, and take every opportunity to introduce further vulgarity.
You have to be deep into the laddish frame of reference to know what's going on. But if you're interested in the connections between slang and linguistic imagination the effort is well worth it, believe me.
Stanky n. The glaze that is left on the shaft of the choad after a bout of kipper splitting. May be zuffled on curtains or wiped on a stankey-chief.
Even the spoof cross-referencing is funny, because one obscure term is often defined by others which themselves need explanation, or are cloaked in comic metaphor – as in
rear gunner n. In aviation terms, a gunner who shoots one of his own side by firing his lamb cannon (qv) into their bomb bay (qv).

snookered behind the red Unable to sink the pink due to the time of month. The only pot on is a difficult brown.
Some of them are clearly comic inventions, such as
Snogging water;   a male grooming lotion that smells like Joan Collins' knickers. After shave.
but the majority are explanations of common terms, such as horizontal jogging, rear admiral, and tradesman's entrance, and there's also lots of rhyming slang and examples of street language 'shown' in the work of famous writers.
You'll need a strong stomach to take in all the lavatory terms, but essentially it's kind-hearted smut and self-consciously outrageous sexism – not at all vicious. And there are also, en passant, some interesting sociological details:
Sports bag n. A handy cottaging accessory in which one partner stands to conceal his feet and avoid detection by lavatory attendants looking under the door.
The latest and hugely enlarged edition has just appeared which the publisher describes as "an exhaustive lexicon of four letter filth which contains over 10,000 useful words and phrases to turn the air bluer than a baboon's arse."
For those who may not know, the Roger in the title is 'Roger Mellie, the Man on the Telly' – one of the regular characters in Viz who specialises in vulgarity. This book is filthy, extremely funny, and very well informed. Since its first appearance it has gone through many new editions. Make sure you get the latest and biggest.
© Roy Johnson 2007

  Buy the book at Amazon UK

  Buy the book at Amazon US
---
Roger's Profanisaurus Rex IV: The Magna Farta, London: Dennis Publishing, 2007, pp.480, ISBN: 095485778X
---
More on language
More on literary studies
More on writing skills
More on creative writing
More on grammar
---