best-selling reference for word alternatives and opposites
Roget's Thesaurus is a classic and much-loved compilation of synonyms and antonyms. It was first published in the middle of the nineteenth century, and although the arrangement of its entries has been modified from time to time, it has remained in print ever since. When do you need a thesaurus? Basically, most people use them to find alternatives for words which they wish to avoid repeating. And they are very popular with fans of crossword puzzles.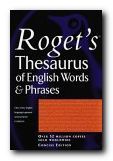 If you've already shown off by using the word 'benevolence', you look up the term and discover 'philanthropy', 'generosity', 'benignity', 'charity', and 'unselfishness' as synonyms (same or near-same meaning). The headword is also explored in its form as a noun, verb, adverb, and adjective. Thesauri (that's the plural) also include antonyms (opposite meaning) and Roget has always given examples of expressions in common usage.
So in this case, it includes 'good Samaritan' and clichés such as 'heart in the right place' and 'milk of human kindness'. Roget's is a thesaurus which you dip into for some nugget of information, and stay there tasting and sampling for much longer than you had intended.
The book has always been a big favourite with crossword puzzle fans, because the entries throw up alternative word possibilities of the kind which are often locked in their clues.
It's a treasure trove of verbal information (sorry – another cliché) which is why the original compiler's name has always been retained in the title as a guarantee of value. Make sure you get the latest edition, because lots of quotations have been added.
© Roy Johnson 2004

  Buy the book at Amazon UK

  Buy the book at Amazon US
---
Roget's Thesaurus, London: Penguin, 2004, pp.848, ISBN: 0140515038
---
More on language
More on literary studies
More on writing skills
More on creative writing
More on grammar
---