Russian poetry and prose 1800-2000
Catriona Kelly takes a rather unusual approach to the task of presenting two centuries of Russian literature without going for a chronological list or a 'great writers' structure. What she does instead is take Pushkin as a central starting point, then follows themes that arise from a consideration of his work and looks at other Russian writers en passant.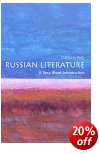 Starting from the importance of Pushkin to Russian society and culture, she puts nineteenth and twentieth-century Russian literature into a context which includes the political, social, and cultural history of a country which has gone from absolute monarchy, through totalitarian dictatorship, to a rough-hewn and precarious democracy in less than a hundred years. This book is not simply about literature: you'll learn a lot about history from it too.
Her early chapters discuss Pushkin's language and his thematic connections with other Russian writers as diverse as the poets Osip Mandelstam and Boris Pasternak, and novelists Gogol, Chekhov, and Mikhail Bulgakov.
There's a thoughtful chapter on novels and poetry during the Soviet period, and she makes a brave attempt to re-examine literature from this dark era and defend it against accusations of crude propaganda.
She also looks at the role and significance of women in Russian literature – both as subjects and authors. Her observations seem to be based on a close acquaintance with 'gender-aware criticism' in the last years of the twentieth century, and there are cascades of new names in addition to those already well known, such as Akhmatova and Tsvetaeva.
There are also chapters on religious belief and the nature of good and evil (plenty on Dostoyevsky there); Russia's imperialistic relations with its neighbours and the cult of the exotic; and the writer as a guide to public morals.
This book could easily have as its alternative sub-title 'An Introduction to Alexander Pushkin', but taking him as her inspiration she considers just about every other major Russian writer of the last two hundred years – plus plenty more besides.
These very short introductions from OUP are an interesting and attractive format – a small, pocket-sized book, stylishly designed, with illustrations, maps, endnotes, suggestions for further reading.
© Roy Johnson 2001
---
Catriona Kelly, Russian Literature: a very short introduction, Oxford: Oxford University Press, 2001, pp.164. ISBN: 0192801449
---