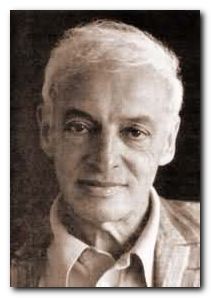 Saul Bellow (1915—2005) was born of Russian-Jewish parents in Canada, but lived most of his life in Chicago, a city which features in many of his novels. His work features characters struggling to understand themselves, and searching for identity in an often irrational world. He has a wonderful ear for the rhythms of modern speech, and he captures city life particularly well. Linguistically, he manages to successfully combine an intellectual-philosophical vocabulary with the language of the street. And his narratives are often very funny. He was awarded the Nobel Prize in 1976.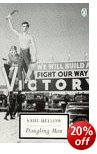 Dangling Man (1944) his first novel, is concerned with existential philosophy and the sense of identity which was much in vogue at the time of its publication. It's an accomplished debut, thoughtful and serious, about a man who does not want to go into the army. This reflects the serious side of Bellow, who repeatedly inspects the human condition. But it doesn't have much of the rib-tickling bravura of his later work. This is early Bellow flexing his wings. It is perhaps best appreciated after you have read some of his later works.


Buy the book from Amazon UK


Buy the book from Amazon US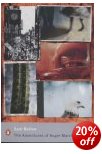 The Adventures of Augie March is an ambitious, rambling, almost picaresque novel. Its first half is a moving and seemingly authentic account of a young boy growing up in Chicago during the Depression – which is where Bellow himself was raised. The story then goes off in a free-wheeling account of a series of bizarre jobs and relationships, and he ends up in Mexico. Bellow's purpose seems to be to question how much compromise is desirable and how much is necessary, and what make us think about which parts of ourselves we want to remain individual. The second half of the novel however is far less coherent and less credible than the first – but some critics think otherwise.


Buy the book from Amazon UK


Buy the book from Amazon US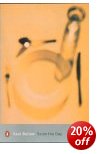 Seize the Day (1956) is a novella in which you get a sense of Bellow finding his true voice. It's a light, swift work with dark shadows that looks at the events of one day in the life of Tommy Wilhelm, a fading charmer. He confronts his sense of personal failure and a love-hate relationship with his father. This is his day of reckoning and he is scared. In his 40s, he still retains a boyish impetuousness that has brought him to the brink of havoc. In the course of this one climatic day, he reviews his past mistakes and spiritual malaise. This is a short work which is held together by the sort of concentrated sense of unity which is the hallmark of a good novella. It is now widely regarded as the first of Bellow's great works.


Buy the book from Amazon UK


Buy the book from Amazon US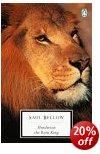 Henderson the Rain King (1959) was his first major success. It is a comic character study of American millionaire Gene Henderson, a larger-than-life 55-year-old who has accumulated money, position, and a large family, yet nonetheless feels unfulfilled. The story plots his frustrations with modern life, and his quest for revelation and spiritual enlightenment in Africa, where he fights with a lion, is hailed as a rainmaker, and becomes heir to a kingdom. He meets two tribes, one of which he virtually destroys in an attempt to purify their main water supply of a plague of frogs which goes disastrously wrong. Much of the novel's humour derives from such antics from Henderson, a character-exaggeration clearly based on Ernest Hemingway (who was a highly regarded writer and public figure at the time).


Buy the book from Amazon UK


Buy the book from Amazon US

Herzog (1964) became highly regarded and a classic almost as soon as it was published. It centres intensely on the life of Moses Herzog, a Jewish intellectual who is driven close to the verge of breakdown by the adultery of his second wife with his close friend. He writes letters to famous people, both living and dead – Spinoza, Nietzsche, Winston Churchill, and the President of the USA – giving them a piece of his mind and asking their advice about how to live. The novel begins with a statement which sets the tone for everything that follows: "If I am going out of my mind, it's all right with me, thought Moses Herzog".


Buy the book from Amazon UK


Buy the book from Amazon US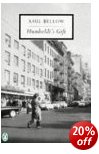 Humboldt's Gift (1974) traces the life and memories of writer Charlie Citrine as he reflects on the influence of his boyhood friend and mentor, Humboldt. This character is based loosely upon Delmore Schwartz, the Jewish poet and short story writer whose early promise was never fulfilled. He descended into alcoholism and poverty, and died in a cheap hotel room, creating the modern version of the myth of the 'doomed poet'. The novel deals with the 'gift' for aesthetic appreciation he passes on to his close friend Charlie, the narrator of the novel.


Buy the book from Amazon UK


Buy the book from Amazon US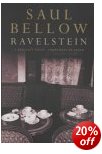 Ravelstein (2000) is something of a double portrait. Abe Ravelstein, a mega-successful Jewish academic realises that he might be dying. He invites his friend Chick to write an biographical study of him. What we get is a not-so-thinly disguised portrait of the critic Allan Bloom written by a character who has had all the brushes with life which Bellow experienced in his own: near-death illness, late-life divorce, and happiness with a new wife. Since his death, it has become a lot clearer just how much of his own life Bellow put into his fiction.


Buy the book from Amazon UK


Buy the book from Amazon US
© Roy Johnson 2009
---
More on Saul Bellow
More on short stories
More on biography
---