entertaining collection of trivia and unusual facts
I was given an earlier version of Schott's Almanac as a Xmas present, and it kept me smiling all through the holiday. It's printed to look like an old encyclopedia, but in fact it's a new compilation of the most amazing – and amusing – trivialities. It starts off with things such as a list of all the diseases doctors are legally obliged to report, the road directions for driving from Land's End to John O'Groats, and key details of all the James Bond films. It also lists quotable quotes from Samuel Johnson and – just in case you need it – a list of blood group compatibilities, and who has won the Boat Race since 1829. My favourite for the dinner table quiz was how to pronounce toff British surnames such as Auchinlech, Bohun, and Colquhoun.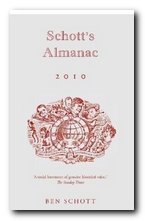 It's the sort of book which literary people might keep in the lavatory – but personally I found it difficult to put down once I started reading it. There's serious stuff too – such as legal and medical terminology [my old favourite 'borborygmous' makes an appearance – it means 'rumbling of the stomach'] heraldic colour symbolism, and how to wrap a sari. But it's the oddity of the juxtapositions items which gives the book its character. A list of bed sizes sits next to compound plurals [adjutants-general and filets mignons] and the rules for a game of Tug-of-War.
If you want a list of the Beatles' UK number one singles, illustrated definitions of cloud types, or the names of suppliers to the Queen, including her Christmas crackers – it's all in here.
This year's edition is separated into thirteen sections (Chronicle, The World, Society & Health, Media & Celebrities, Music & Cinema, Books & Arts, Sci, Tech, Net, Travel & Leisure, Money, Parliament & Politics, Establishment & Faith, Sport, and Ephemera). As it says on the cover "Schott's Alamanac presents the modern year with an archiac twist."

  Buy the book at Amazon UK

  Buy the book at Amazon US
© Roy Johnson 2009
---
Ben Schott, Schott's Almanac 2010, London: Bloomsbury, 2010, pp.352, ISBN: 0747598428
---
More on language
More on literary studies
More on writing skills
More on creative writing
More on grammar
---