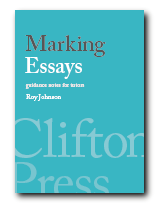 Marking Essays provides advice, guidance notes, and support materials for tutors who mark and grade essays. It is suitable for use in schools, colleges, and universities. All the common problems of assessment, grading, and offering written comments are clearly explained. Marking Essays features practical advice from experienced tutors, grading schemes, and suggestions for using IT solutions. It deals with all the most important questions of assessing and responding to academic writing.
Sample pages Marking strategies – Special problems
[eshop_addtocart]
You can empty the shopping cart later if you change your mind.
Author
Dr Roy Johnson is the author of best-selling writing and study guides – Studying Fiction, Making the Grade, Improve your Writing Skills, Writing Essays 3.0, and several others. He was originally an industrial designer, then went on to lecture on literary studies at Manchester University and the Open University. He publishes a monthly newsletter on writing, culture, and technology, and is the director of Mantex Information Design.
---
Full contents
Introduction – Marking strategies – Comments on the script – How much
comment? – Correcting mistakes – Advice as separate notes – Structure
The body of the argument – Grading and assessment – Grading systems
Making allowances – Special problems – Misunderstanding the question
Students' demands for explanations – Use of secondary sources
False authorship – Attention-seeking – Disabled students – Payments
to tutors – Technical solutions – Presentation – Guidance notes – Using
computers – Audio-cassettes – Podcasts
This book will help you to respond to students' written work. You will learn new techniques, and it will help you in assessment and grading for any subject.
Verdict
"It's great. After eight years working full time in higher education institutions, nobody has taken the time to explain the grading systems as thoroughly as Marking Essays." Jean Baird – Nottingham Trent University
Details
Price – £1.95 – 84 pages – .mobi Kindle format – 2011 – ISBN 0951984411

Questions and Answers on our products
---
Download FREE Kindle for PC reader here

Read this .mobi format eBook on a Kindle — or on your PC, using the free eBook reader from Amazon.
---

You can make this purchase via PayPal – using either a PayPal account or a credit card. It's quicker using PayPal – but you can also use your credit card details in the normal way. Both types of transaction are completely secure.
---