how two million women survived without men after the first world war
Before the First World War a single woman was expected to have one aim in life – to get married. But three-quarters of a million British soldiers were killed in that war, leaving not enough men to go round for a generation of what became known as 'Surplus Women'. Virginia Nicholson is the author of the widely acclaimed Among the Bohemians: Experiments in Living 1900-1939. Her latest book Singled Out is a study which explores the extraordinary lives these 'left-over' women made for themselves. It tells how they challenged conventions, how they campaigned to better their lot, how they often coped with poverty, childlessness, and frustration. Above all, it shows how women proved that there is more to life than finding Mr Right.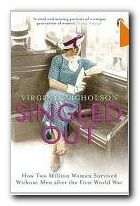 It's a work that skillfully combines real-life biographical studies, their reflection in imaginative fiction, plus a mercifully light dusting of historical and sociological statistics. Nicholson has selected her illustrative examples from as wide a social range as possible, but those which stand out are inevitably the middle and upper class women who have left a written record of their experiences.
The most memorable are Vera Brittain, Winifred Holtby, and novelists Rosamund Lehmann, Phyllis Bentley, and Christina Stead. But she has gone to a great deal of trouble to represent a wide spectrum of life stories, digging out working and service class biographies, and interviewing rare survivors of the period and its difficulties.
There are lots of inspiring stories – such as the skill and determination which took Beatrice Gordon Holmes from humble beginnings, via office accounts, to control of a senior company on the Stock Exchange.
The imbalance between available men and women persisted into the 1920s, and at some points the situation was regarded as so desperate that women were encouraged to emigrate to find husbands. After all, the colonies had not lost such a large proportion of its young men in the war. Young 'gels' were encouraged to join the 'fishing fleet' and trawl for a suitable huband abroad.
Women were caught in all sorts of double binds regarding their life chances. They were expected to have but one goal in life – marriage. But when most of the men went off to be slaughtered in the 'Great War' women were simultaneously expected to replace them in their jobs as laborourers, drivers, and munition workers, yet were looked down on (often by their married sisters) for 'going out to work'. Then when the war ended they were criticised for occupying jobs meant for men. If they went into the only career paths open to women – nursing and teaching – they were expected to leave if they got married.
The unequal pay levels were the product of an ironic kind of double-think by the powers that be. Men must be paid more in order to support their families, ran the argument, and a single woman has only herself to support, but at the same time women must be deterred from breaking free of motherhood and the home. High remuneration would encourage the bachelor girl to escape her destiny as breeder of the race, so the differentials must be maintained in the interests of demographic stability.
If a single woman followed all these restrictive practices forced on her by the tradition of social prejudice, she could also end up being an unpaid carer to aged parents. Nicholson documents several heart-breaking instances cases of young women whose aspirations are totally crushed by demanding and self-centred mothers. Their stories, culled in old age from interviews conducted in nursing homes, read like the plots of Anita Brookner novels.
In focussing so intently on questions of personal fulfillment, it's impossible for Nicholson to escape the issue of sex in a spinster's life – but she skates across it as rapidly as possible, pausing only to include mention that some women did actually admit to having 'urges'.
Fortunately she does much better in covering the topic of lesbianism – which was euphemistically known in the inter-war years as 'Uranism' (a term coined by Edward Carpenter). Radclyffe Hall is the stand-out figure here, partly because of her flamboyant appearance and behaviour, and partly because of the scandalous Well of Loneliness trial. But Nicholson also adds many other examples of lifelong happiness found in women's same-sex partnerships – by Sylvia Townsend Warner, Mary Renault, and Angela du Maurier (Daphne's elder sister).
She finishes with a clutch of biographical sketches illustrating the extraordinary achievements amongst this generation of women who fell out of the marriage market following the husband shortage caused by the carnage of the First World War. Some went on to be qualified engineers, university teachers, leaders of political movements, aviators, doctors, archeologists, members of parliament, and even in one case the curator of London Zoo.
Miss Eve Balfour … discovered that eating compost-grown vegetables cured her rheumatism [and] began her experiments with organic cultivation. Her book The Living Soil (1943) was the influential text behind the formation of the Soil Association, which she co-founded in 1946. Not content with her role in this (literally) ground-breaking project, Lady Eve played saxophone in her own dance band, passed her pilot's licence in 1931, crewed sailing ships and wrote successful detective novels. 'I am just surprised to see that what I stood for all my life is no longer derided but more or less accepted', she remarked at the age of ninety.
Nicholson argues very persuasively that these women paved the way for the radical feminists of the last few decades. But unlike their sisters of the contemporary world, their achievements were solidly founded on the fact that they never married. This is a splendid piece of documentary writing and social history which provides sympathetic insights into the difficulties and the triumphs experienced by young women as they dealt with the war and its tragic consequences.

  Buy the book at Amazon UK

  Buy the book at Amazon US
© Roy Johnson 2010
---
Virginia Nicholson, Singled Out: How Two Million Women Survived Without Men after the First World War, London: Penguin, 2008, pp.312, ISBN: 0141020628
---
More on lifestyle
More on biography
More on the Bloomsbury Group
---