graphic design examples from the stuff of everyday life
This is an eclectic assembly of graphic design stimulus material. It's a handsomely printed samples book – if you're interested in the scratchy-grunge school of typography and design. The examples are drawn from an amazing variety of everyday sources. If there's a theme that emerges, it's that a lot of the illustrations originate in one-off events. They come from exhibition catalogues; interactive software paint programs; advertising hoardings; and digitized typefaces.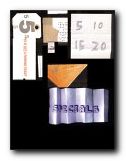 Some of the more interesting are from business cards; CD covers and record albumn sleeves; art gallery exhibition flyers; and print magazine pages. A lot of the 'design', it has to be said, is pretty flimsy. But amongst the more substantial offering are web site home portals; designs for promotional packaging; and some curious examples from public signage.
For trivia enthusiasts there are football score sheets; art college doodlings; some amusing, ultra-utilitarian birthday cards; a carrier bag design; three-dimensional postcards, and (I'm not kidding) instructions for making an origami snowball.
Some of the ideas behind the exhibits are more interesting than the finished work itself, but the book is packed with visual stimulation. In fact the dust cover inserts an interesting invitation to aspiring designers – "It's about more than just typography. If your work isn't here, let us know, and perhaps you'll make it into our next book."
© Roy Johnson 2002

  Buy the book at Amazon UK

  Buy the book at Amazon US
---
Claire Catterall (ed), Specials, London: Booth-Clibborn, 2001, pp. ISBN: 1861542208
---
More on design
More on media
More on web design
---