best-seller on the basics of typography and page design
Don't worry about the quirky title. Just pay attention to what's on offer. This is a popular beginner's guide to the appreciation of type which teaches by good example. Every page is a mini-tutorial in good design – an elegant balance of body text, pull quotes, graphics, and a interesting variety of fonts, weights, and sizes. Spiekermann and Ginger start with the issue of appreciating and selecting typefaces for specific purposes. There are guidance notes on the provenance of the typefaces they discuss, and they take the line that context is all.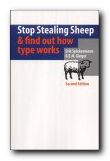 That is, the value of a font can only be seen when it is put into use, and is seen where it will be used – on the page or screen. A lot of their exposition is conducted via extended metaphors – families, music, driving, and human character – which sometimes seem rather strained. But they do cover all the basics of typography: selection of font type, size, and weight; word and line spacing; and page design.
Make sure you get the second edition. It's a big improvement on the first. Lots of colour has been added to the pages, and the topics they discuss now include the latest developments in font technology. They also explain how to choose type for the best effects on Web pages, email, and writing for the screen.
The emphasis is on visually exciting graphic examples, rather than a ponderous lecture on typography. That's probably what has made this book such a best-seller. It's an introduction which is entertaining and breathes enthusiasm for the subject of tasteful design. It's also an elegant production in its own right.
© Roy Johnson 2002

Buy the book at Amazon UK

Buy the book at Amazon US
---
Erik Spiekermann & E.M. Ginger, Stop Stealing Sheep & find out how type works, Mountain View (CA) Adobe Press, 2nd edition 2002, pp.192, ISBN 0201703394
---
More on typography
More on technology
More on digital media
---