learning skills for further and higher education
Distance learning is nowadays much more than receiving correspondence course units through the post. Radio and TV broadcasts, video tapes, CD-ROMs, email, online courses, and Web-based conferencing are all common means of learning. This book offers support and learning skills for anybody undertaking this form of education – which goes under lots of different names. Having taught distance learning courses for over thirty years myself, I can confirm that Christine Talbot covers all the important issues. She starts with preparation for studying, showing you how to assess your existing skills and identify what you will need. This also involves becoming aware of the different modes of learning.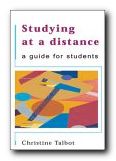 Next comes a chapter on E-learning, now rapidly expanding to include submitting electronic assignments, conferencing, and using virtual learning environments. This is becoming a more and more important part of most distance learning courses – for economic as well as technological reasons. She tells you what equipment you will need, how to plan your time, and how to make the best use of the support and resources available to you.
There's also coverage of the core skills required for any form of course in further or higher education – note-taking, essay writing, and revision and examination skills.
The guide ends appropriately enough with advice on tackling a research project – probably the largest piece of work you will have to undertake below post-graduate level.
This is a short and readable guide which offers a clear explanation of how to prepare for independent study. It will be particularly useful for those people returning to education after a gap of some years.
© Roy Johnson 2010

  Buy the book at Amazon UK

  Buy the book at Amazon US
---
Christine Talbot, Studying at a Distance, Maidenhead: Open University Press, third edition 2010, pp.256, ISBN: 0335238068
---
More on study skills
More on writing skills
More on online learning
---