guide to the basics of literary analysis – plus short stories
Many adult students have spent most of their lives reading fiction in the form of stories and novels. However, when it comes to making a formal academic study of literature – especially at undergraduate level – it's hard to find the right words in which to express your understanding of a text. That's why this book was written. Studying Fiction is an introduction to the basic concepts and the technical terms you will need when making a study of prose fiction.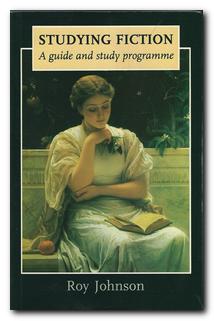 It shows you how to apply the elements of literary analysis by explaining them one at a time, and then showing them at work in a series of short stories which are reproduced as part of the book. The materials are carefully graded, so that you start from simpler literary concepts, then work gradually towards more complex issues. The guide contains stories by Arthur Conan Doyle, Katherine Mansfield, Thomas Hardy, Joseph Conrad, D.H. Lawrence, and Charles Dickens. All of them are excellent and very entertaining tales in their own right. The guidance notes help you to understand the literary techniques being used in each case.
Eight chapters deal separately with issues such as the basics of character and story; point of view, symbolism, irony, and theme; literary language and 'appreciation'; the techniques of close reading; the social context of literature; narrators and interpretation; and an explanation of literary terms.
The book works as a form of self-instruction programme. You first of all read the story; then a particular literary concept is explained in relation to the story; a series of questions are posed [with answers] which allow you to test your understanding; and the chapter ends with suggestions for further reading.
OK – this is what's called an 'author's own review', so I've tried to be as unbiased as possible. If anybody else wishes to produce a review, I'll be happy to add it. Alternatively, you can read somebody else's review at Amazon here
© Roy Johnson 2000

Buy the book at Amazon UK

Buy the book at Amazon US
---
Roy Johnson, Studying Fiction, Manchester University Press, 1994, pp.226, ISBN 0719033977
---
More on literature
More on the novella
More on literary studies
More on short stories
---