guidance on advanced academic writing techniques
Yet another writing guide. Successful Writing for Qualitative Researchers is aimed at post-graduates in the social sciences and education. It covers the process of writing from the first steps in conducting research, through to the production of papers for scholarly journals and full length published books. The emphasis throughout is on work which is non-quantitative – that is, writing which knowingly includes a degree of subjectivity and impressionistic reporting – a side of research Peter Woods describes as 'ethnography' and which much of the time seems to come dangerously close to creative writing.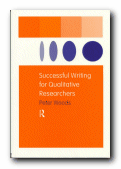 He starts with a chapter describing the problems and pain of writing, with copious illustrations from authors who have found it difficult to make a start and just as hard to keep going. This is intended to reassure those struggling that their experience is not unique. Next he discusses the separate parts of a typical academic article, with illustrations from his own work – though strangely enough, he doesn't spell out first of all what these parts should be.
On the other hand, a chapter on 'alternative forms of writing' [non-standard approaches to academic writing] struck me as more interesting, because it offers practical advice on the manner in which writing projects can be presented. Similarly, the best parts of his comments on editing are those in which he examines specific examples, with plenty of good advice on content editing for bias, ambiguity, weak structure, and even libel – though he has an unfortunate tendency to keep bringing in his own publications as source material. [Readers might keep in mind that in the UK 'researchers' are assessed on the number of times their work is cited in published works. This might be one sneaky way of pushing up the score.]
There's a section on collaborative writing where he describes the benefits and dynamics of working as part of a team – though rather too much of this fell back into personal anecdote for my liking. There are other weakness too. His approach often switches disturbingly between guidance and speculation; the mode of address occasionally wobbles uncertainly between 'one' and 'you'; and his exposition switches from surmise to an analysis built on quotes from other writers.
Too often, his emphasis is on describing problems, rather than showing how to solve them. Sometimes, the subject of consideration in any chapter slithers around alarmingly. Chapter sub-headings fail to clarify the internal hierarchy of contents (though this could be the publisher's fault) and at one point he even includes a personal anecdote into the middle of a bulleted list. These are not examples of good quality writing.
The chapter which I suspect is most likely to be of interest and use to his audience is the last – 'Writing for Publication'. In this he provides valuable advice on researching the market, with real-life examples. These include how to cope with rejections and how to learn from examples of readers' reports – which he quotes. He even includes guidance on submitting book proposals, and on negotiating a contract if you have the good luck to have one accepted (and it is often luck). There are also specimen publishers' guidelines and a sample book proposal which intending writers, from the field of social sciences and education (and well beyond) would do well to study closely.
So, in a sense, this is a book which gets better as it goes along, though the good advice he offers would be more effective if he had followed his own recommendations on clarity of structure, thematic coherence, and rigorous editing.
© Roy Johnson 2005
---
Peter Woods, Successful Writing for Qualitative Researchers, London: Routledge, 2nd edition 2005, pp.200, ISBN: 0415355397
---
More on study skills
More on writing skills
More on online learning
---