good practice for supporting research projects
Now that supervisor training is compulsory, this practical, no-nonsense handbook is essential reading for both the novice and the experienced higher degree supervisor. But I suspect it will be just as useful for the serious postgraduate research student as well. It is reassuring to know that the book is based on the experiences of a postgraduate research skills workshop run at Cardiff University, and the authors illustrate the procedures and problems with real life examples – all of which ring convincingly true to me.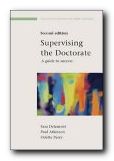 They start out by recommending that firm guidelines should be established for the nature and structure of the relationship between supervisor and student. Everything needs to be made explicit, and in my experience students need to be made aware of exactly what they are undertaking. Next comes drawing up some sort of schedule of work which is loose enough to give the student flexibility, but firm enough to prevent wasteful 'drift'. It's also essential at the outset to establish if the project is feasible. Can it be done? Are any ethical issues raised?
They then go on to the literature review. How to find the literature; how to read it; and how to write about it, including the all important issue of accurate referencing and citation. If you are a supervisor, they offer some good exercises: if you are a student, this section tells you what you should be doing.
They include advice on what is often the laborious issue of data collection. This includes the interesting phenomenon of using post-doctoral researchers as a bridge between supervisor and student.
There are also personal matters to take into account – isolation, poverty, and low morale- all of which can easily develop in the three years or more of doctoral research. They provide useful and realistic advice on these matters, as well as on what they see as the core issue – developing the student's sense of judgement and good taste.
Of course for most people the hardest part of doing a PhD is writing up to 100,000 words. It's not something you do often. Their key advice is good: 'write early and write often'. And they also offer some useful tips on helping to overcome writer's block.
Probably the most frightening part is the PhD viva, and since it's something that only happens once for the candidate, it's not easy to prepare for. But the supervisor can prepare, and they show some case studies to prove the point.
Finally they offer the bonus of advice for activity beyond the degree – that is, helping successful post-docs to advance their careers through networking, teaching, attending conferences, and publishing their work.
This is a very thorough and a thoroughly decent guide to what is often a long and complex process. It's written for supervisors, but it's worth reading, whichever side of the examination process you are on.
© Roy Johnson 2005
---
Sara Delamont, Paul Atkinson, and Odette Parry, Supervising the Doctorate: a guide to success, Berkshire: Open University Press, 2nd edn, 2004, pp.220, ISBN 0335212638
---
More on study skills
More on writing skills
More on online learning
---