try out Linux without installing it on your hard disk
Linux is the completely free operating system which has been developed as part of the Open Source Software movement. It offers a powerful and safer alternative to Windows XP, which many people cannot afford, particularly where multiple installations are concerned. But switching from a well known operating system to something new can be a scary experience. Wouldn't it be good if you could take a test drive first. That's where the clever idea behind this book appears. It comes with a CD that lets you run Linux off the disk, without installing it onto you hard drive.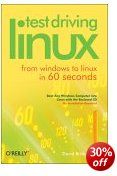 It will run more slowly off the CD, but you get to try Linux without taking any risks. David Brickner even supplies the neat wrinkle of saving your settings onto a USB flash disk so that you don't need to reconfigure Linux each time you boot up. The CD also comes with a full copy of OpenOffice, the free alternative to Microsoft Office, as well as free browsers, graphics editing software, and hundreds of other applications for every type of daily computer task. The desktop interface which comes on the CD is called K Desktop Environment (KDE). He explains how this works and shows how a variety of applications run in it. KDE also has a number of key features of its own – such as the ability to run virtual desktops.
After guiding you through KDE (which works in a similar way to Windows XP) he offers a tour of the free Linux software applications which come on the CD – Konqueror web browser and file manager, Totem multimedia player, Kontact personal information manager, GIMP image editor, and OpenOffice.org. This is a fully featured suite of word processor, spreadsheet, and presentations programs which can open any files from Microsoft Office and save back into that format.
If you don't like these particular applications, you can just as easily download the Firefox browser or the Thunderbird email client. Almost all these programs are more bug-free and more secure than their Windows counterparts.
The book's subtitle is "from Windows to Linux in 60 seconds". You might boot up from the CD in that time, but you'll want to spend a while using all the programs and trying out the software provided.
If when you've finished you feel like making the switch to Linux or running it alongside Windows on a dual-boot system, then he has a very useful conclusion which explains the advantages and shortcomings of the many versions of Linux available.
© Roy Johnson 2005
---
David Brickner, Test Driving Linux, Sebastopol, CA: O'Reilly, 2005, pp. 341, ISBN: 059600754X
---